Make the right choice when choosing new guitar speakers. There are several things to think about when looking for a new speaker for your amp. Is the speaker you want to replace something you can't do without? Do you want a specific tone? Is it going to be something you finally get to put into your prized amp? There are many things to look at, and we'll go through some of those things so that you know what is important when looking into the perfect guitar speaker.
Open your door to the world of guitar amps with the 10-inch speaker. This speaker is many a guitarist's preference whether you're a beginner or an expert. Whether it be clean, overdrive or distortion there's always an appropriate use for the 10-inch guitar speaker. With the right amp and the right choice of guitar cable, the sound quality delivered should be very good and it will last for a long time.
Choosing the right loudspeakers is one of the most significant factors in achieving a good sound. One reason for this is the fact that loudspeakers are responsible for producing almost all the sound you hear, especially if you're using an amp with built-in distortion effects. Another reason is that they have the largest impact on the kind of tone an amp produces. If you've already got a great amp head, but you want to improve the quality of your guitar's sound, replacing your speakers may be one way to do it.
The Eminence Patriot Ragin' Cajub 10 inch guitar speaker features a Polymer Composite Woofer and 1.5-inch tweeter with extended frequency response. Although it is only rated at 80W, don't be fooled by its small size, it is incredibly loud, touch-sensitive, and responsive, comes with a nice bell-sounding top end, and enough bite to deliver really dirty riffs. It can handle frequencies from 70 Hz to 5 kHz so it's perfect for contemporary rock, heavy metal, and loads of other styles too.
The Jensen Vintage 10-Inch Guitar Speaker will bring out the best in your guitar amp. It can also be used for a variety of other musical instruments including acoustic guitars, accordions, and bass guitars. This 25W speaker is handmade from vintage Jensen speakers that have been reconditioned and tested for quality assurance. It has an 8Ω impedance with a frequency range of 100 to 5,000 Hz, and a sensitivity of 86 dB. It may be used with a minimum power of 20 watts or greater. Inside this 10″ speaker are two magnet structures made from high-grade alnico, which are the main magnets responsible for the tonal qualities of this speaker. This Jensen Green 10″ bass guitar speaker is sold individually.
This rugged Celestion 10″ Guitar Speaker is used by professionals and beginners alike. It provides that classic Greenback tone with its warm low end, smooth mids, and aggressive top end. Product Features: Low in output but with the weighty low-end balance of a 12″, the G10 Greenback features a complex, creamy mid-range and smooth, vintage top-end. 10″ ceramic magnet speaker available in 8 or 16 ohms. Country of Origin: United Kingdom Package Weight: 4.8 pounds.
The Celestion G10 Gold is part of the G10 Gold Guitar Speaker family. This speaker is designed for guitarists who want a serious guitar speaker and aren't worried about paying a little more to get one. The G10 Gold has a very detailed, clear sound to it that's perfect for any kind of music, whether it's rock, blues, country, or jazz. There are 8 ohm and 16-ohm options available when you buy this speaker.
For guitarists looking for a vintage tone, Celestion's G10 Vintage guitar speakers will give their amplifiers the voice they have always been missing. These 10″ speakers are age-appropriate replacements for Fender®'s original vintage era 10″ speakers, which put true reverb and tremolo into the hands of rock and roll pioneers. The G10 Vintage 60 is an update of this classic design, with slightly less power handling than the G12N for cleaner headroom. Available in 8 or 16 ohms and voiced to cut through any mix with a fullness only comparable to a 12″, these speakers are an excellent choice for anyone seeking modern tone with vintage undertones."
6. Eminence Legend 1058 speaker 10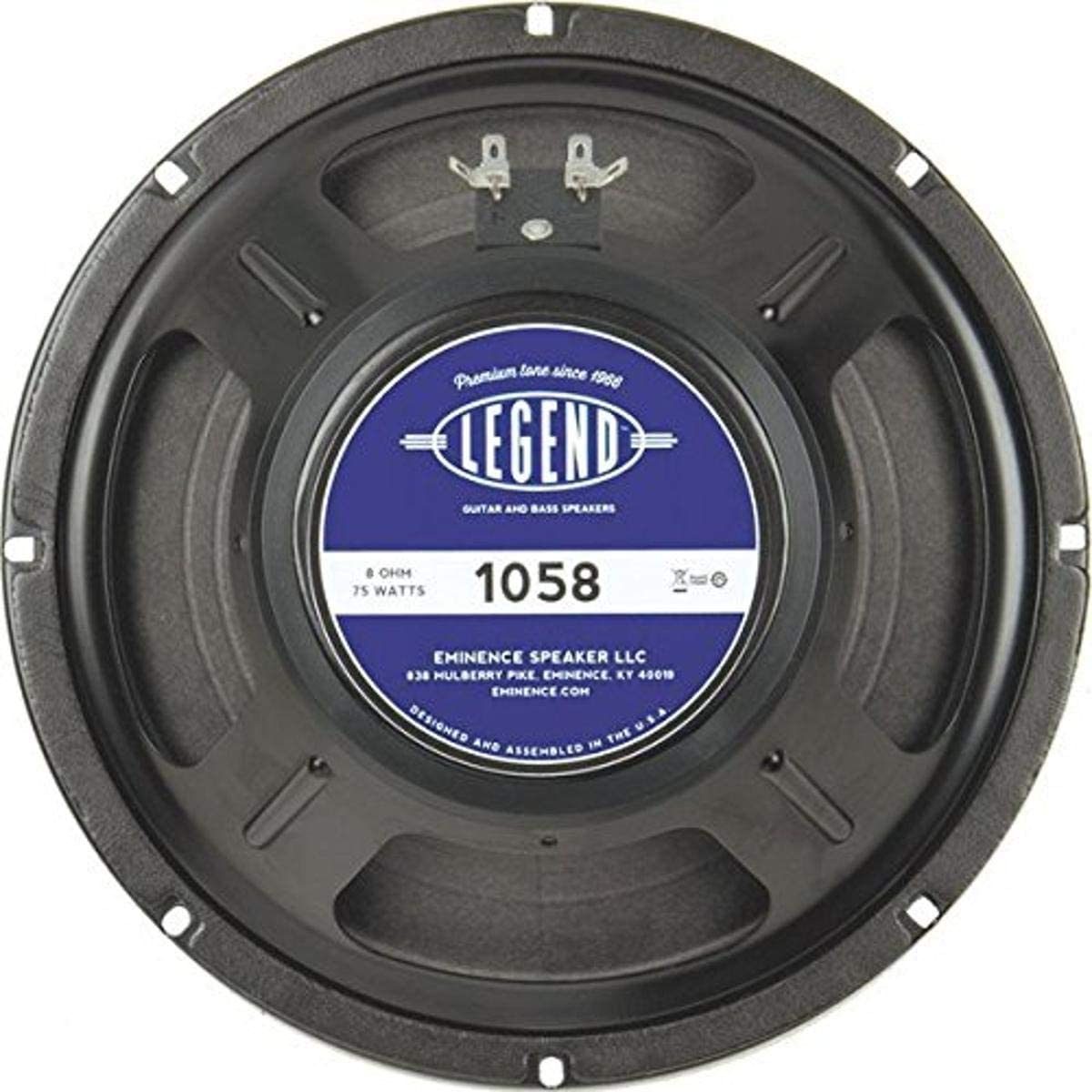 The Eminence Legend 1058 speaker is designed for guitarists by guitarists! The Legend series of speakers deliver a vintage tone inspired by classic rock, blues, and country music with a tone that responds best to medium to high volume levels. The high volcanic content cone provides smoothness on the top end, while the legendary seamed cone construction delivers the ideal combination of richness and definition. Built with high power handling capabilities, this 10″ speaker is an excellent choice for high-powered amps from 200W to 250W.
A 15″ speaker that's been designed for high-power PA/monitor applications. The Delta15A features a heavy 56oz. magnet and handles 800 watts program power, while also boasting a frequency response of 48Hz to 4kHz, with an impedance of 8 ohms. This speaker is beefy enough to handle amplifiers up to 800 watts peak power and will sound great on a variety of bass guitar and bass amp circuits. Like all our speakers the Delta15A has outstanding Eminence tone, durability, and construction quality.
The Jensen P10R8 Green 10″ 2-Way 25 Watt Powered Speaker, is perfect for using to practice playing music and learning new techniques in a band or orchestra. The speaker provides a crisp clear sound that is great for all kinds of performers, styles, and genres. It has a high-frequency driver and a medium frequency driver to produce all ranges of frequencies. This speaker is lightweight and can be easily transported anywhere at any time of the year for use. Each speaker is designed specifically for a solid full-range response. This green-colored speaker will stand out among other contemporaries and make your performance that much easier on your eye.
The Celestion G10 Vintage is a 10-inch speaker with a powerful ceramic magnet, featuring an 8-ohm rating and an ultra-fast response ideal for those who "go all the way" with their guitar volume. The vintage series is unique in the Celestion range due to its more powerful construction and more complex sound. They are voiced to offer bass players a smooth, warm lower range and sparkling upper harmonics. Now available with tighter UK tolerances for improved responsiveness for higher quality audio systems, the G10 Vintage is perfect for mixing or even home cinema systems whilst still being loud enough to practice on.
The Jensen Jet Blackbird 12″ 100 Watt Guitar Speaker is built with a powerful voice coil and lightweight aluminum cone that provides a warm and smooth sound, particularly in the most critical low-mid frequency. With its extended-range highs, the Jet Blackbird guitar speaker has a tight bottom end that brings out the character of your amp. The Jet Blackbird was designed to accommodate overdrive distortion and provide colorful detail with little loss of power. This is the sound that made many British-style amps world famous.
Jensen is a well-known brand, who knows how to come up with great, quality products. The Jensen Jet Blackbird 12 inch 100 Watt Guitar Speaker has a frequency response of 85 Hz – 8 kHz. This Jensen speaker has a 1-inch voice coil and handles a wattage of 100 watts. The impedance is 16 ohms, making this guitar speaker perfect for any Marshall or Fender amp with matching impedance. The tweeter on this Jensen speaker has a silk dome that is rigid and of high strength. There is a cone that is specially treated to be strong, yet lightweight and made of paper pulp. It also has rubber surrounds that are flexible but durable.