Best Monitor for Nintendo Switch
Nintendo Switch is one of the best and most unique consoles on the market. The built-in display is super fine for playing casual games but if you are someone who likes to play and enjoy games on a bigger screen we have hand-picked some of the best monitors for Nintendo switch in this article all the are monitors are used by us. Also, we have lifted pros and cons that will definitely help you while making decisions.
Read Also:10 Best Monitor For Rendering in 2022 – Reviews & Guide
The reason why we love Nintendo Switch is that it has a compact design that makes it portable so that you can enjoy your favourite games on the go. But sometimes it's good to have a bigger screen to play your favourite games and with our list of the best monitor for Nintendo Switch, you'll be able to find the right one that fits your needs.
These monitors don't require any additional cable or adapter so that you can enjoy using them right away but if you want to use an external hard drive for Switch then check out our list of the best external hard drives for Nintendo Switch.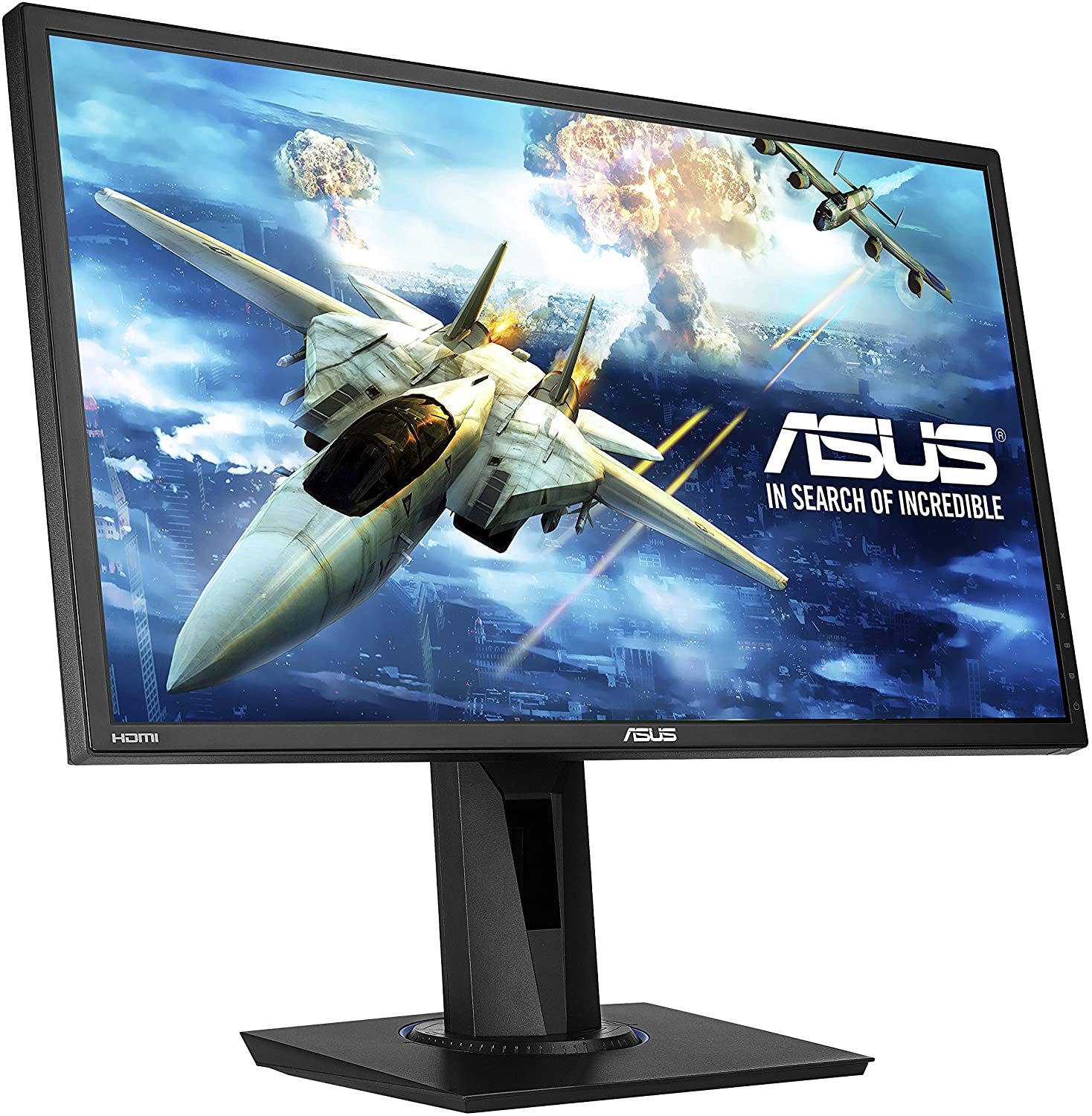 The ASUS VG245H is a 24-inch full HD gaming monitor with a 1ms response time and 75Hz refresh rate. It also features Adaptive-Sync/Free Sync for tear-free Gameplay and ASUS exclusive game fast input technology, crosshair and timer functions. The VG245H has been certified as G-Sync Compatible by NVIDIA.
When it comes to design, ASUS always have customers in mind – the ASUS VG245H is specially designed to have an ultra-slim profile without compromising performance. Its ergonomically-designed stand lets you find the ideal viewing position whether you're on the couch or sitting on your bed. This monitor is also specially designed for long marathon gaming sessions. The ASUS Eye Care technology minimizes eye fatigue and ailments with flicker-free backlighting and blue light filters to let you game for extended periods in comfort.
The latest ASUS VG245H features the ASUS-exclusive Game Plus hotkey with crosshair (Aimpoint) and timer functions. Gamers can select four different aim point shapes, including crosshair, circle, square and plus. These aim points help gamers to focus their gameplay on target objects more quickly, improving their overall gaming performance.
DrawBacks
The only real issue with this ultra tech monitor is the lack of brightness. The display is dimmer than most competitors plus you would have to adjust the settings to enjoy max performance.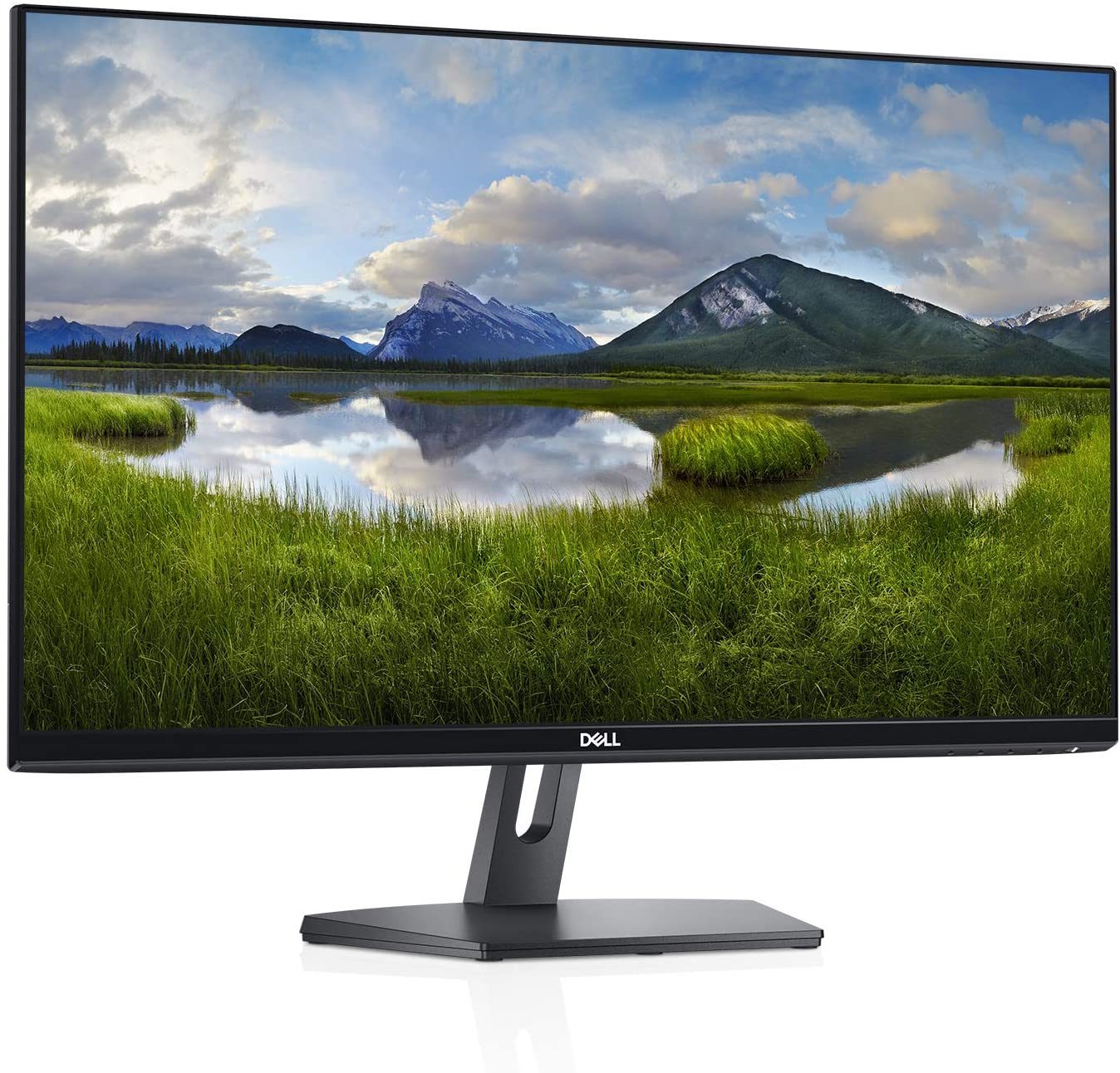 The Dell S2418H 24 Inch Ultra-Thin Bezel Monitor is the perfect addition to any home entertainment setup. With a virtually borderless InfinityEdge display, you'll enjoy every millimetre of this sleek 24 inches Full HD monitor.
The Dell S2418H 24 Inch Ultra-Thin Bezel Monitor features a 1920 x 1080 at 60 hertz full HD maximum resolution and 16:9 aspect ratio. It also has an ultra-wide 178 degree viewing angle with a vivid color coverage at 99 percent SRGB with 2 million to 1 contrast ratio (typical).
This virtually borderless monitor has a compact base to maximize desk space, plus it has tilt, swivel and height adjustments for an improved viewing experience.
Bestseller No. 1
2022 HP Pavilion 17 Laptop, 17.3″ FHD IPS Display, 11th Gen Intel i5-1135G7(Up to 4.2GHz, Beat i7-10710U), 16GB RAM, 1TB PCIe SSD, Backlit Keyboard, HDMI, WiFi, Bluetooth, Webcam, Windows 11+JVQ MP
Connectivity Technology: HDMI, VGA. You can maximize your workspace with the Dell 24 Monitor, which has a compact base that's approximately 23% smaller than its predecessor and has a thin bezel that's ideal for a multiple-monitor setup.
The Full HD resolution ensures stunning images, while the 60Hz refresh rate provides smooth visuals. This Dell 24 monitor has a 178-degree viewing angle, so you can easily view it from almost anywhere in the room, and it has HDMI and VGA inputs for easy connectivity to compatible devices.
DrawBacks
The budget monitor has everything in place except for the misaligned buttons that look absurd.
Pros
Inexpensive
Solid display quality
Attractive design
Robust sound quality
Cons
1080p resolution can look dated
Physical buttons are misaligned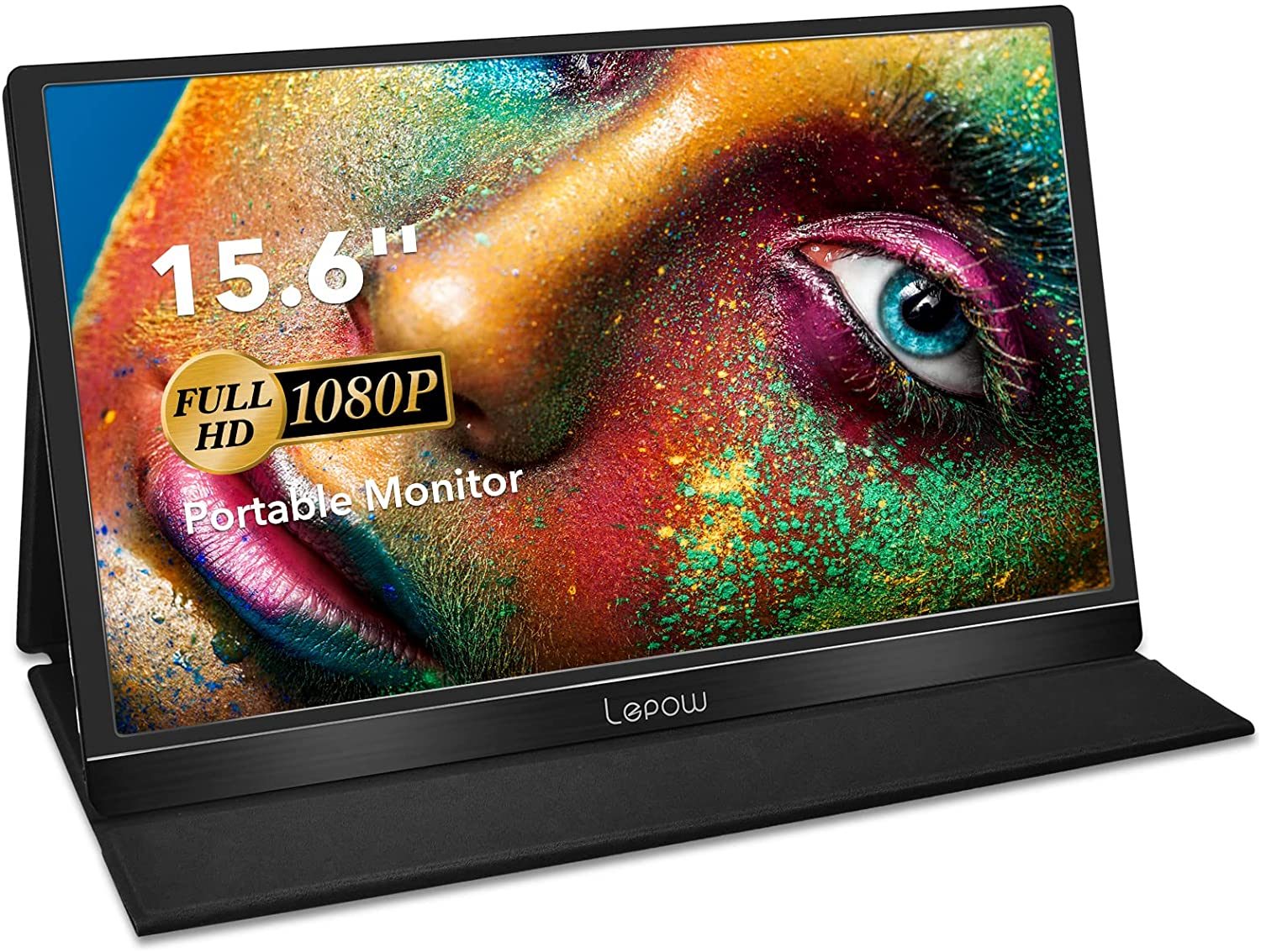 Lepow portable monitor delivers stunning Full HD resolution visuals with awesome color reproduction. The 15.6 inch Full HD IPS screen use eye protection that keeps your eyes from getting tired during prolonged use.
The Lepow 15.6 inch portable monitor has 2 built-in speakers that deliver loud and immersive 360-degree sound with deep and accurate bass, letting you enjoy your entertainment in full sound.
With 3mm ultra-narrow bezel, Lepow made this 15.6 inch portable monitor to have ultra-high screen-to-body ratio, which makes it more compact and portable. The Lighter weight design is perfect for on the go, making it easy to carry around without weighing yourself down.
Lepow monitor can connect laptops, PCs, Smartphones, PS4, XBOX ONE easily via Mini HDMI/Type C/Type A connector. It's ideal for extending your screen or playing games on business trip, travel, or home entertainment.
The Lepow USB C 1920*1080 portable monitor has an amazingly slim 0.3 inch profile with a super light 1.7 pounds body that won't add much bulk to you when traveling or commuting. The unique design makes it a perfect companion for laptops to maximize work efficiency and productivity!
DrawBacks
The high-quality portable monitor comes with a lot of magnificent features but one thing that Lepow failed to excel in is its image quality.
Pros
Roomy screen
Moderate price for a portable panel
Handy OSD menu and controls
Both USB-C and mini-HDMI inputs
Cons
Mediocre image quality
Dull colors
Stand does not support portrait orientation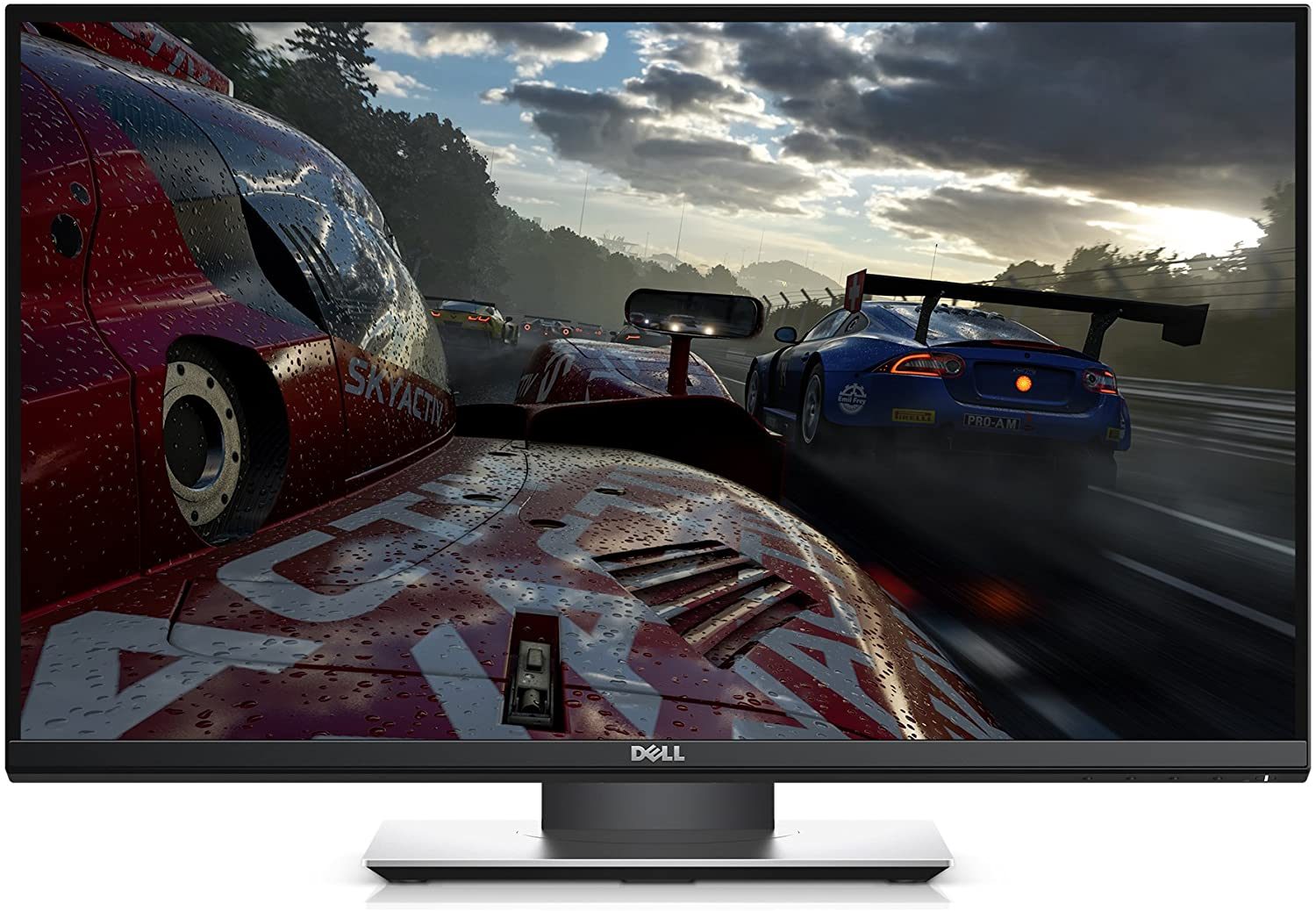 The S2417DG 23.8″ 16:9 LCD Gaming Monitor from Dell features a WQHD 2560 x 1440 resolution and a 16:9 aspect ratio for crisp and clear HD content reproduction. Combined with a 1 ms response time and support for up to 165 Hz refresh rate, the monitor offers enhanced clarity, reduced blur, and smooth performance while playing fast-paced games.
In addition to the enhanced resolution, the monitor also supports NVIDIA G-SYNC technology that synchronizes its refresh rate with your graphics card's frame rate output to reduce screen tearing, stuttering, and ghosting for a fluid gaming experience. Once configured, you can also take advantage of NVIDIA Ultra Low Motion Blur (ULMB) technology, which helps further reduce ghosting and motion blur when gaming at high frame rates.
For connectivity, this monitor comes equipped with DisplayPort and HDMI ports. In addition to enhanced connectivity options, you can tilt the display 5° forward or 21° backward for maximum viewing comfort. Other integrated features include two USB 3.0 ports for your peripherals along with an audio line-out port for headphones or powered speakers.
DrawBacks
There are a couple of things to worry about before opting for this Dell monitor. Firstly, its hefty price and the other one is limited viewing angles which is the real disappointment, to say the least.
Pros
High refresh rate
G-Sync support
Fully adjustable stand
QHD resolution
165Hz refresh rate
Cons
Washed out colors before calibration
Quite Expensive
Limited viewing angles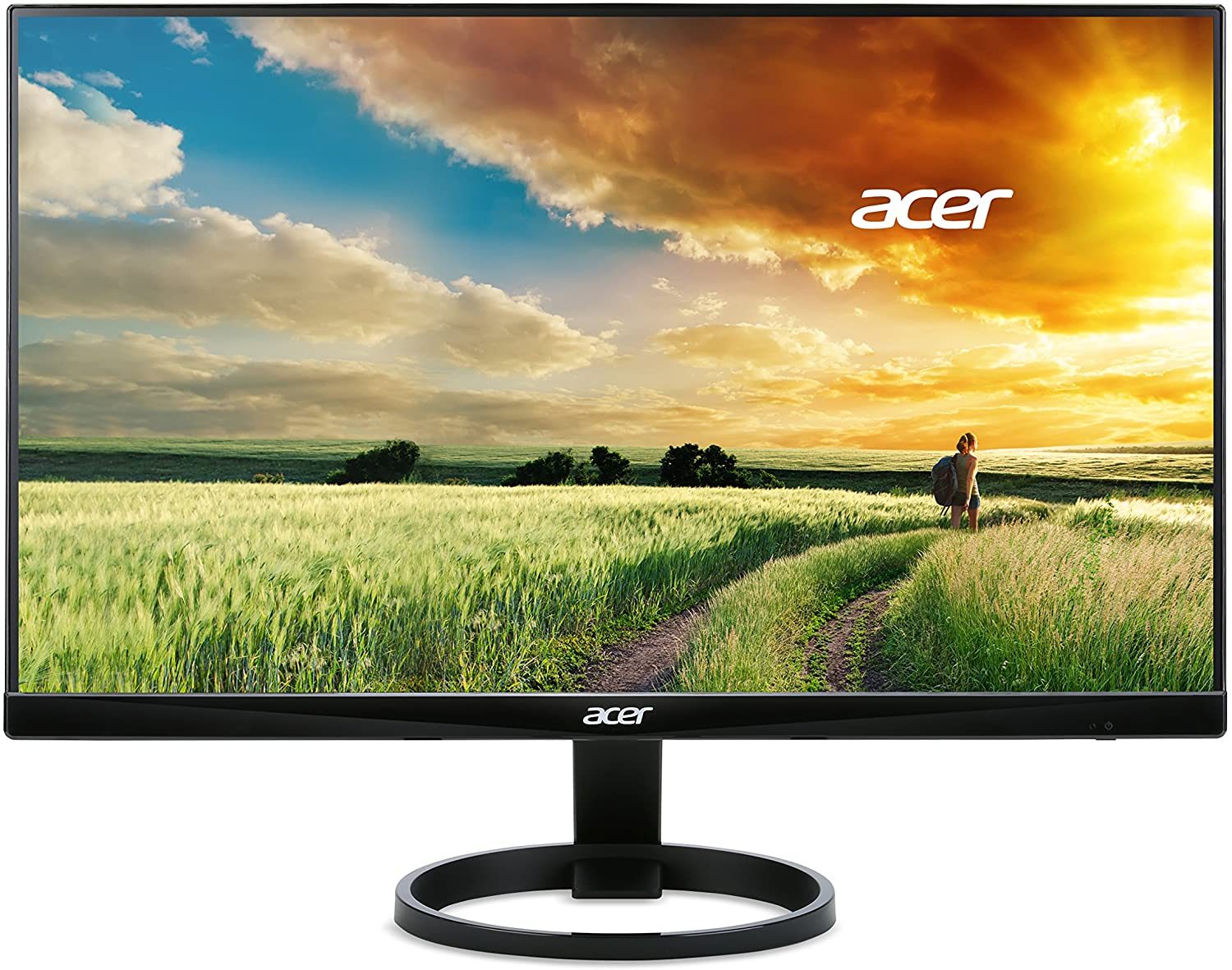 The Acer R Series 23.8″ wide viewing IPS display shows every detail clearly and vivid without colour difference from any viewing angle. Its zero frame design puts no boundary on your visual enjoyment while the brushed hairline finish stand matches any environment. It also supports a VESA mount so you can have it mounted on a wall or with a multi-monitor stand.
This Acer monitor showcases a 23.8″ widescreen with an impressive 1920 x 1080 resolution that delivers excellent detail, making it perfect for widescreen HD gaming, multimedia and productivity applications. Enjoy widely available 16:9 HD digital content without image distortion on the expansive widescreen LCD. The remarkable 100 Million:1 contrast ratio ensures a crystal-clear viewing experience while a rapid 4ms response time keeps moving images sharp.
It also supports both VGA and HDMI inputs offering greater compatibility. The Acer Z35 brings games to life in immersive 21:9 full HD (2560 x 1080) widescreen with a 60hz refresh rate making games more smooth and work less tiring featuring NVIDIA G-SYNC technology eliminating screen tearing and minimizing display stutter and input lag.
DrawBacks
The tilt-only stand is a disappointment plus the high-end monitor doesn't come with enough ports.
Pros
Affordable price.
Good colours
Low input lag
Energy efficient
Cons
Tilt-only stand
No DisplayPort
No USB ports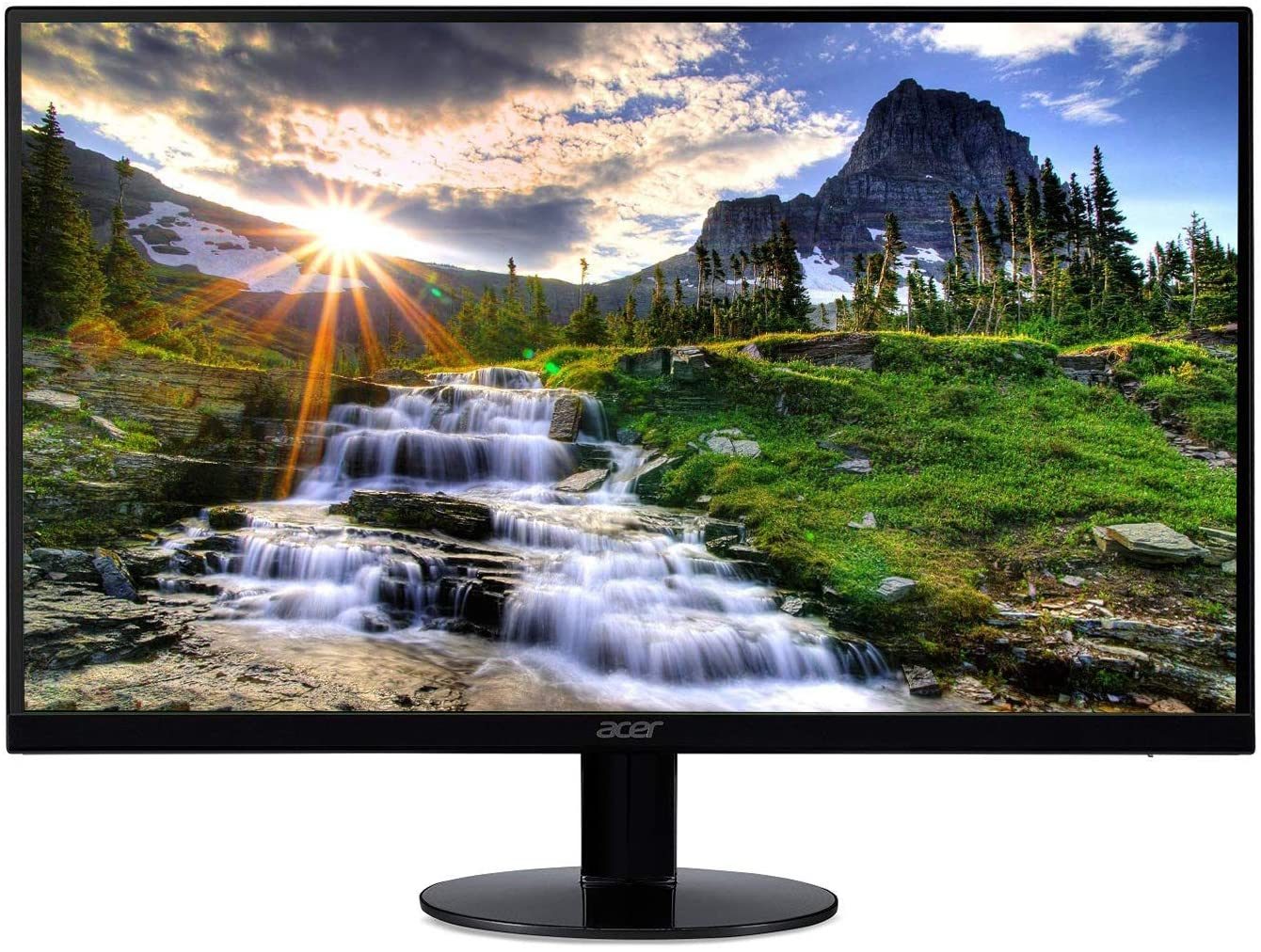 The Acer SB220Q bi 21.5 inches is a well-built budget IPS monitor with good all-around performance. It has excellent wide viewing angles, and it displays deep uniform blacks. It gets bright enough to overcome glare in most instances, and it can display a wide colour gamut for HDR content.
Unfortunately, the backlight is not very bright, so HDR content doesn't pop as much as it should, although this shouldn't be an issue if you have a dark room. Its stand has limited ergonomics, but its 1080p resolution will be adequate for most people's needs.
This monitor has outstanding low input lag that even gamers should be happy with, but there is minor smearing behind fast-moving objects in some games and videos due to the slow response time. On the upside, it supports FreeSync variable refresh rate technology to reduce screen tearing.
DrawBacks
Unlike most Acer models, this monitor comes with a tilt-only stand which is a major drawback plus it doesn't support VESA mounts and has no USB ports to go with.
Pros
Highly affordable
AMD FreeSync support
IPS display
Ultra-thin bezels
Good Refresh rate
Cons
No VESA mount compatibility
No USB ports
Tilt-only stand
Sceptre C278W-1920R is a 27″ Curved monitor that embraces all the speed and features that gamers crave. Featuring an incredible 1920×1080 resolution and universal HDMI, DisplayPort, VGA, and speakers the curved monitor delivers immaculate picture quality at Superfast refresh rates. With a response time of 5ms, viewers can enjoy an enhanced gaming experience with more speed, more power, and more control. In addition, built-in speakers deliver robust audio for added entertainment.
The curved display delivers panoramic images that create a more immersive experience for users to enjoy games and movies. A 1800R curvature ratio creates a wider field of view that allows users to take in the broader picture while enhancing depth perception for greater immersion while gaming.
The C278W-1920R boasts a stunning Full HD 1920 x 1080p resolution that creates superior pixel quality in its 27″ display. The 16:9 aspect ratio provides ample space to spread out and work, plus allows you to enjoy games or movies in their original size without any distortion or stretching.
DrawBacks
Although the said monitor has an astonishing curved display, it doesn't come with the required pixel density to go with. Also, the built-in speakers are not the best going around in terms of sound quality.
Pros
Large Curved Display
HDMI, VGA, DisplayPort
Sturdy exterior
Ultra thin bezel
Affordable price
VESA compliant
Cons
Low pixel density
Tilt only stand
Poor sound quality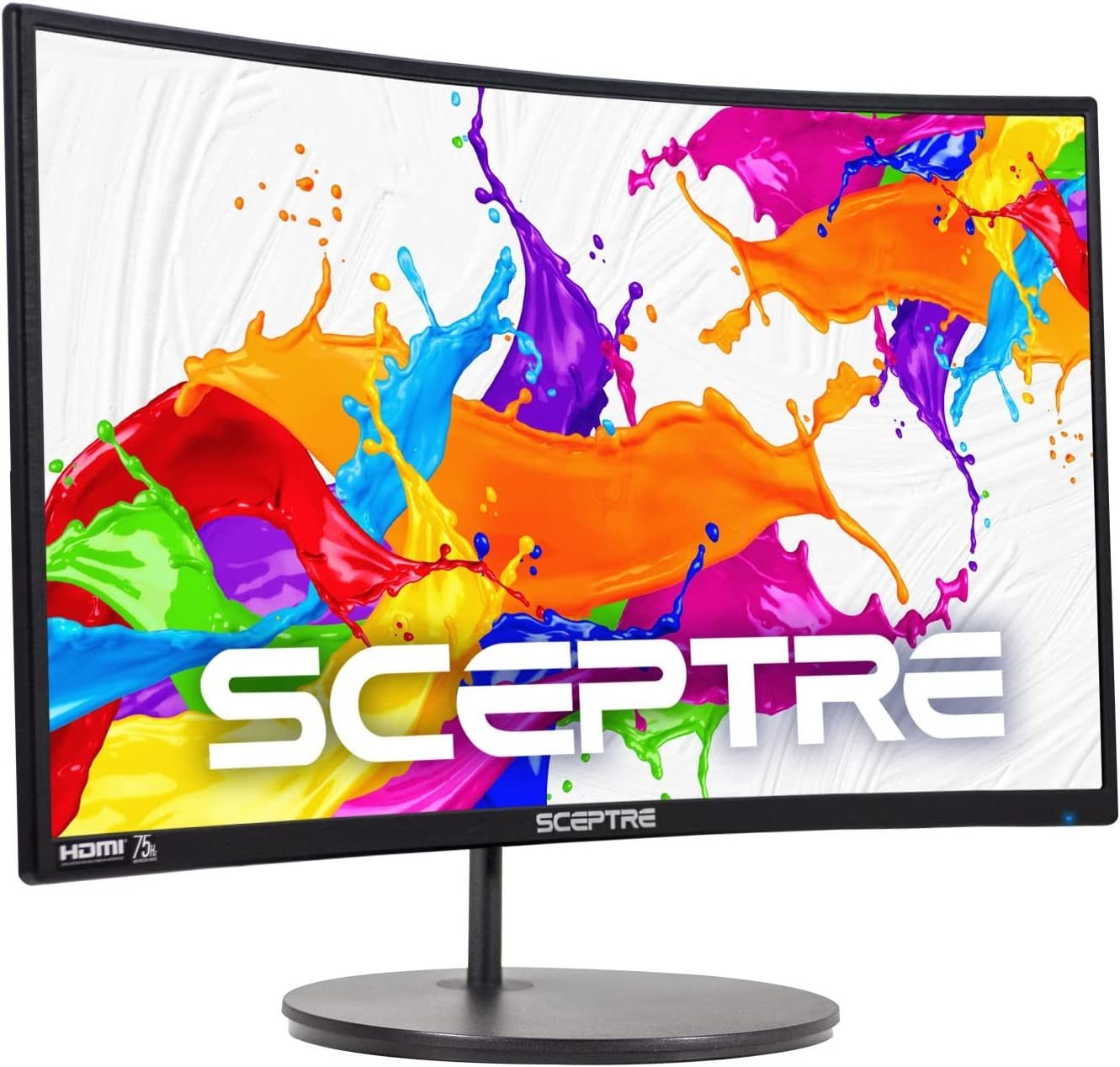 The Sceptre C275B-144R is a 27″ Full HD Curved Monitor that embraces all the speed and features that gamers crave. Featuring an incredible 144Hz refresh rate and 4ms response time, fast moving visuals pose no problem for the C275B-144R. For added competitive edge, choose between FPS and RTS game modes to access custom settings that enhance gameplay.
The C275B-144R features AMD FreeSync adaptive synchronization technology, which syncs your monitor's refresh rate to your GPU's frame rate output to reduce screen tearing and stuttering so you enjoy an ultra-smooth gaming experience.
The SCEPTRE 27″ curved LED monitor is designed with a 1500R curvature that allows every point on the curved display to be equidistant to your eyes, providing a comfortable viewing experience. The 1800R curvature of the screen provides a truly immersive viewing experience that lets you enjoy big, bold and stunning panoramic views while you work or play.
With an ultrafast 75Hz refresh rate and AMD FreeSync technology, this curved gaming monitor delivers the smoothest visuals for your gameplay. The slim profile and bezel-less design also help boost productivity by minimizing visual distractions while you work, study or play games.
The dual HDMI ports allow you to connect your high-definition devices such as gaming consoles, Blu-ray players and more for maximum HD entertainment. What's more, it features a built-in speaker with audio in/out ports for convenience.
DrawBacks
The beautifully curved monitor is a treat to watch in terms of aesthetics, however, it has a couple of negatives too that including poor sound quality and the absence of USB ports.
Pros
Huge curved display screen
Good viewing angles
Crisp display
Sleek design
Cons
Lacks USB port
Below par sound quality
Requires lots of desk space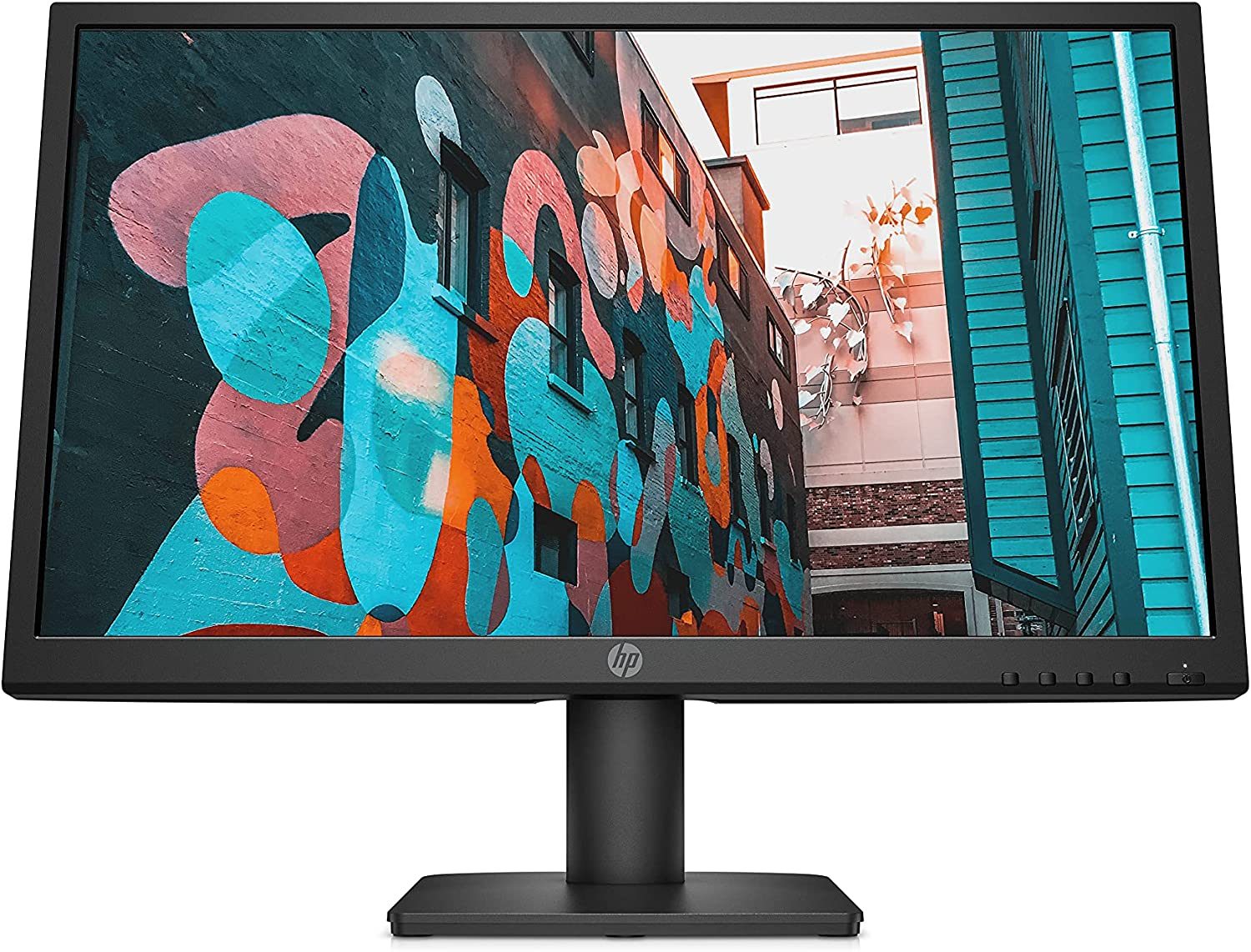 Enjoy IPS technology in a stylish, affordable monitor. With wide viewing angles and vivid colours and a tilt-adjustable screen, the HP V222vb 21.5-inch Monitor is a smart choice for everyday use at home or in the office.
Share the panoramic view: Colors stay true no matter what angle you're viewing from. Share consistent high-color fidelity with In-Plane Switching (IPS) technology across a 27″ diagonal screen. A stunning vantage point for everyone, from almost anywhere.
Distinctively modern and accessible: The contemporary thin profile is enhanced by the modern white and silver colors. The open WEDGE stand design provides convenient access to VGA and dual HDMI ports.
Full HD display: Be prepared for brilliant visuals and crisp images with the unforgettable quality of this stunning Full HD display.
Vivid colour presentation: Color bleed is eliminated with a 3000:1 contrast ratio that delivers deeper blacks, brighter whites, and more vivid colours than ever before. Tilt your way to comfortable viewing: Tilt the panel 5° forward or 21° backward to find your most comfortable position.
DrawBacks
The only bothering thing about this amazing monitor is the lack of language support that is limited to only 10 languages which means it isn't for everyone.
Pros
Full HD Monitor
Brilliant visuals
VGA ports and HDMI support
Custom setting options for partitioning screens, tailoring display settings, or dimming the screen
Cons
Limited language support
Quite heavy
Sceptre's curved gaming monitors immerse you in whatever you're playing. For more than 35 years, our brand has been synonymous with value and quality. Our curved display is designed to maximize your field of vision and provide an immersive experience with a vivid picture to carry you through your gaming journey.
As a gamer, you need a monitor that provides you with superior picture quality for a better gaming environment. The Sceptre C275B-1858RN curved monitor is here to do just that with its crystal clear Full HD 1080p resolution and 95% sRGB colour gamut that delivers vibrant and rich colours.
This monitor also features a 75Hz refresh rate which helps reduce motion blur to provide fluid movement during action scenes or fast-paced games. Choose from different modes such as FPS, RTS and MOBA to optimize the monitor's performance according to the type of game you are playing.
You can enjoy games on this monitor in complete comfort as it is built with AMD FreeSync Premium compatibility for tear-free play and low input lag technology for a seamless gaming experience. Connect all your devices as this monitor comes equipped with 2 HDMI, 1 DisplayPort and 3.5mm Audio In/Out ports that allow.
DrawBacks
Firstly, it doesn't have a USB port which is a major flaw in its design plus the stand doesn't accommodate height adjustment.
Pros
Attractive curved screen
AMD FreeSync support
High frame rate
Affordable price
Cons
Lacks height adjustment
No USB port