Best Monitors Under 150 For Gaming
If you're looking for the best gaming monitor under 150 dollars, we have to warn you: it won't be an easy task. However, it can be done!
When you get a good gaming monitor, it will be possible to have an immersive experience while playing your favourite games. With the right monitor, you will have a crystal clear display and you will be able to see every detail on your screen.
When buying a gaming monitor, it is important to consider many things. You need to consider things such as resolution, refresh rate, response time and panel type. If you're looking for the best gaming monitor under $150, then you can use this guide to help you find the best one for your needs.
The best budget gaming monitor should have a display of at least 1080p resolution and a refresh rate of 144Hz as a minimum that guarantees smooth gameplay without screen tearing or stuttering in fast-paced games.
It is also important that your monitor supports Freesync or G Sync technology to prevent screen tearing and stuttering. A good budget gaming monitor should also have multiple ports so that you can connect your other devices easily.
We spent hours scouring hundreds of monitors and reviews before we came up with this list of the best budget gaming monitors under $150 available in the market today.
LG UltraGear 24GL600F-B 24 Inch Full HD Gaming Monitor with Radeon FreeSync Technology, 144Hz Refresh Rate, 1ms Response Time – Black.
The UltraGear 24GL600F-B is the ultimate gaming display for real gaming enthusiasts. The 24″ Full HD monitor has a 144Hz refresh rate, delivering ultra-smooth 2D motion scenes. With Radeon FreeSync technology, gamers can experience seamless, fluid movement in hi-resolution and fast-paced games.
It eliminates tearing, broken frames and choppy gameplay that can hamper your performance and give you a competitive edge. Additionally, Dynamic Action Sync lets you catch every single moment in real-time.
Its slim design has an elegant metallic stand while the game mode hotkey gives users easy access to choose the right game setting instantly. Built with gamer-friendly features such as Black Stabilizer and Crosshair that allow gamers to spot enemies hidden in dark areas or to have a better view of the target point when aiming at a very far distance.
The LG UltraGear also has DAS Mode (Dynamic Action Sync) which allows users to instantly attack the enemy without any delay by synchronizing.
DrawBacks
The high-quality LG monitor comes with quite a few limitations such as bad black uniformity,
poor contrast ratio and miserable viewing angles.
Pros
Exceptional motion handling
Input lag is virtually zero
Ultra-bright display
Reflection handling is unimaginable
Ultra quick refresh rate
Cons
Image quality deteriorates at various angles
Picture quality is not at par with competitors
2.Sceptre E248W-19203R monitor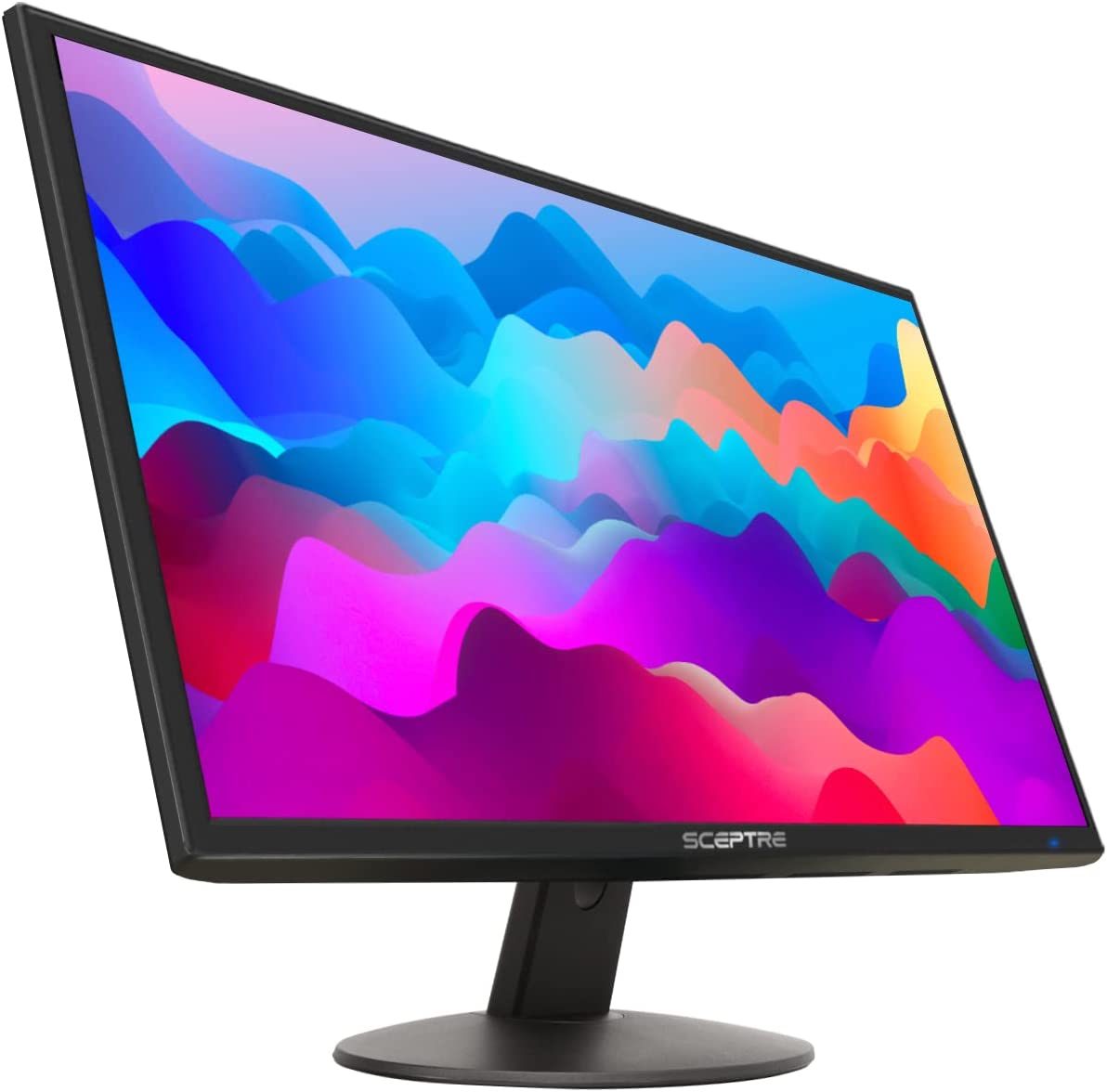 Superior Ultra Slim Profile. Black texture with a metallic texture design on the back cover of the monitor delivers a feeling of high quality and durability. The glossy black finish on the bezel matches any environment.
A New Generation PC Gaming Display Designed for the enthusiast, E248W-19203R features an excellent 1920×1080 resolution at 75Hz, providing you with crisp and stunning images. Connect your computer to this 24″ Monitor's HDMI port for HD quality audio and video (USB Type-C Cable & HDMI Cable included). Slim design 24" LCD HD Monitor with High Resolution 1920 X 1080
This TN panel monitor is designed with style in mind to fit into any room. A premium ID coupled with an ultra-slim profile makes this monitor a perfect fit for your home.
This Sceptre E248W-19203R display comes with a sturdy stand that lets you place it anywhere in your room according to your convenience. This 24″ monitor features built-in dual speakers that deliver powerful sound to complement the spectacular visuals. It supports both vertical and horizontal viewing so you can watch movies from any angle without compromising on image quality.
DrawBacks
The unit is a great one in so many ways, however, the performance deteriorates quite dramatically when it comes to fast-paced games.
Pros
Up to 75Hz free sync
High contrast ratio
Integrated speakers
Two HDMI ports
Cons
Not for fast paced games
Tilt only stand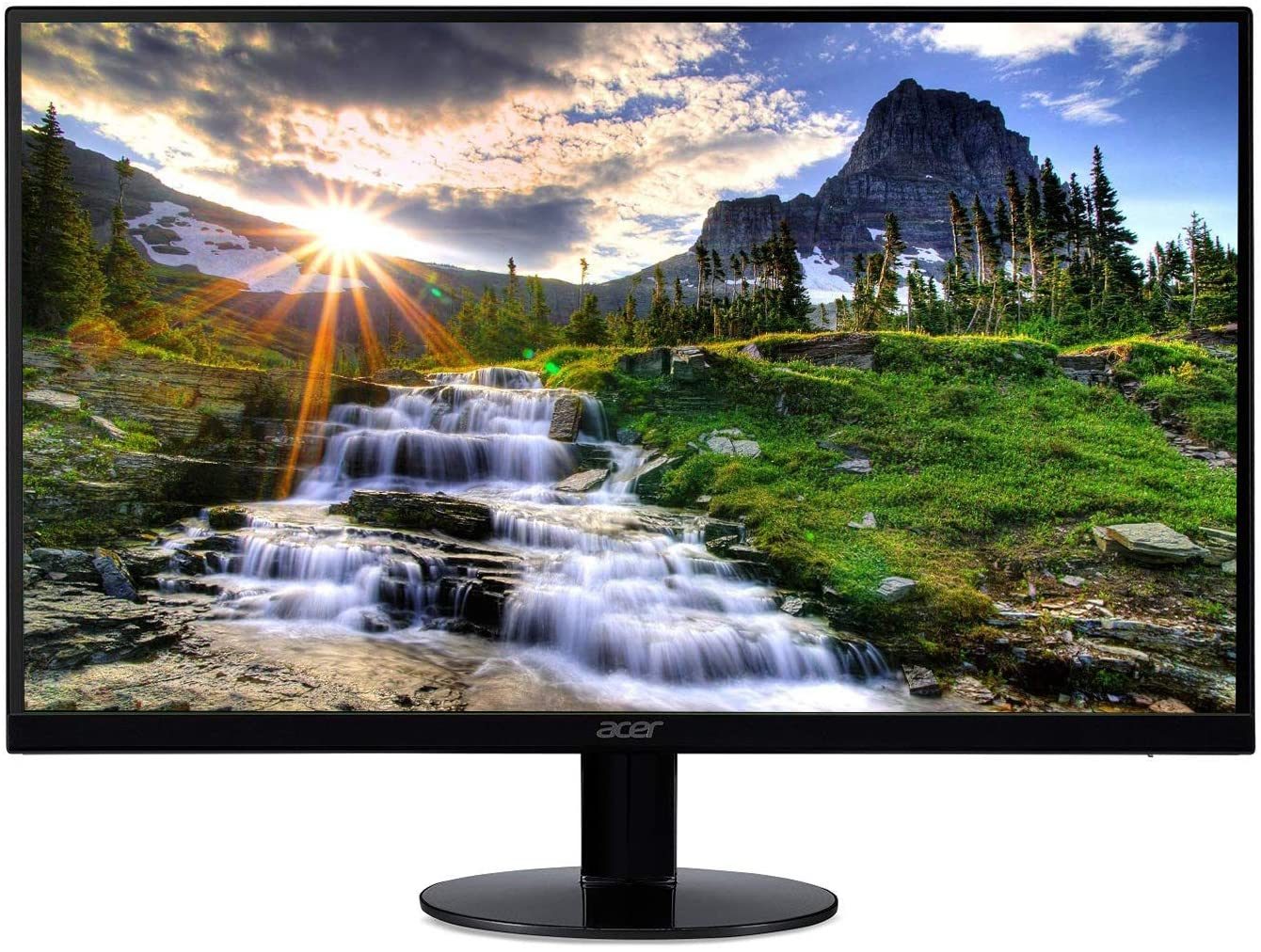 FreeSync technology and a 75Hz refresh rate deliver the smooth visuals and responsive performance needed for gaming, while Acer's ComfyView panel reduces eye strain and provides a more comfortable viewing experience.
IPS (In-Plane Switching) technology highlights the performance of liquid crystal displays. Response times are shortened, colour reproduction is improved, and users can view the screen at virtually any angle.
The rapid response time of 4ms helps eliminate motion blur, so you can enjoy fast-action moments without missing a beat.
This monitor features AMD Radeon FreeSync technology that seamlessly synchronizes the frame rate output between your graphics card and monitor. This dynamic refresh rate effectively eliminates image tearing, stuttering, and jerkiness for smooth gameplay.
An ultra-thin design coupled with a Zero Frame bezel makes this monitor ideal for multi-monitor setups. Enjoy a virtually seamless view of your content across multiple monitors with minimal bezel interference. Plus, the ultra-thin design saves on desktop space to keep you focused on the game at hand.
DrawBacks
Acer has done pretty well in incorporating so many good features in this high quality monitor, though, it also lacks in quite a few ways mainly because it doesn't accommodate VESA mount plus with a tilt only stand, you won't be having any options to set the unit accordingly.
Pros
Highly affordable
IPS display
AMD free sync
Great resolution
Exceptional refresh rate
Cons
Tilt only stand
No USB ports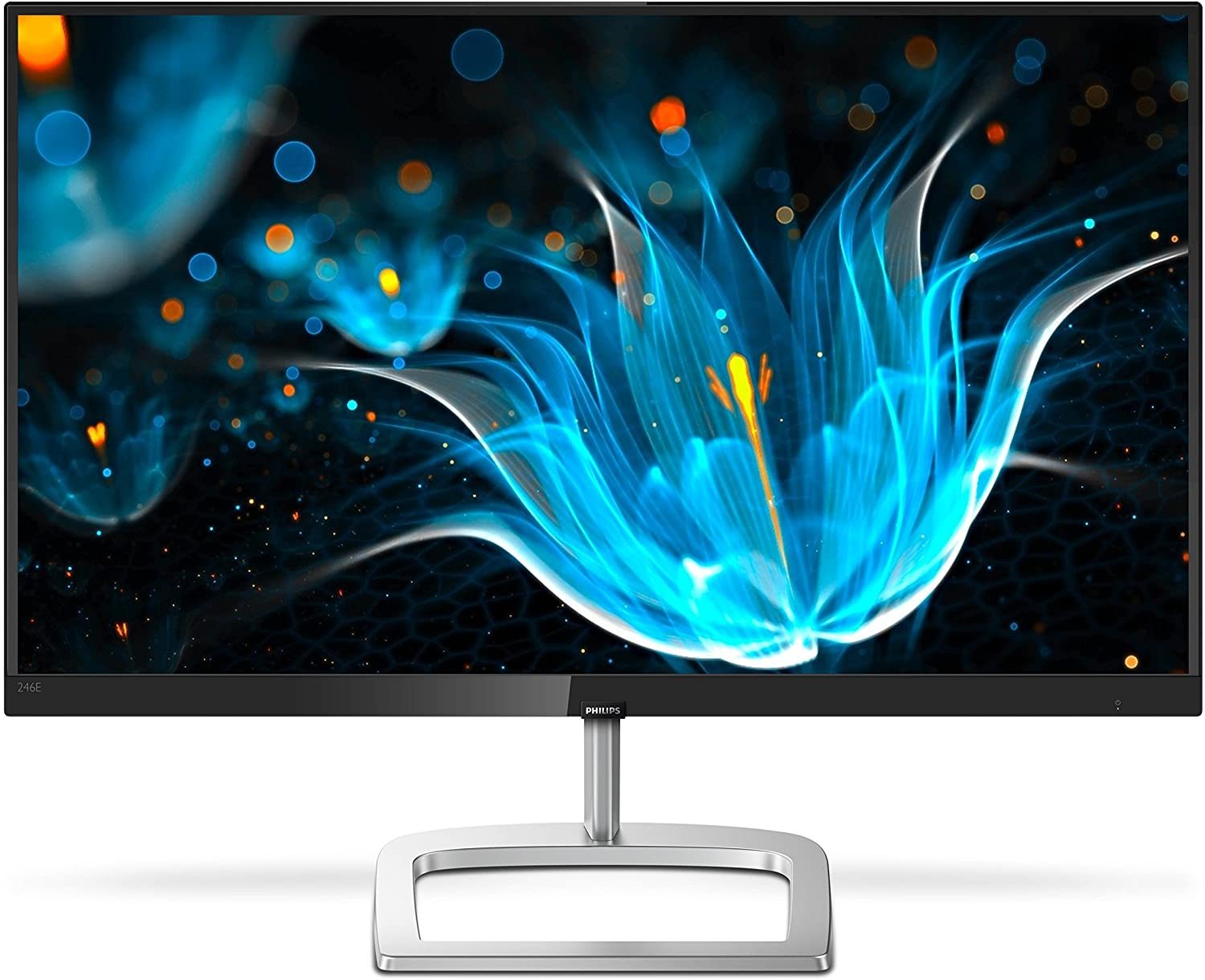 This sleek display with ultra-narrow borders lets you enjoy super clear images in beautiful Full HD quality. With SmartContrast for rich black details, and Ultra Wide-Color for intense colors, this monitor delivers high quality images.
SmartContrast is a Philips technology that analyzes the contents you are displaying, automatically adjusting colours and controlling backlight intensity to dynamically enhance contrast for the best digital images and videos or when playing games where dark hues are displayed. When Economy mode is selected, contrast is adjusted and backlighting fine-tuned for just-right display of everyday office applications and lower power consumption.
Ultra Wide-Color Technology delivers a wider spectrum of colours for a more brilliant picture. Ultra Wide-Color wider "color gamut" produces more natural-looking greens, vivid reds and deeper blues. Bring your entertainment to life!
The LowBlue Mode setting uses smart software technology to reduce harmful shortwave blue light. So now you can work longer and be more productive without straining your eyes! Flicker-Free technology reduces screen flickering through intelligent software control to minimize eye strain.
DrawBacks
It doesn't support the NVidia graphics card plus the monitor also doesn't come with a display port.
Pros
Consistent and vivid colours
Great viewing angles
4k compatibility
Compatible with VESA mount
Cons
Not for competitive gamers
No display port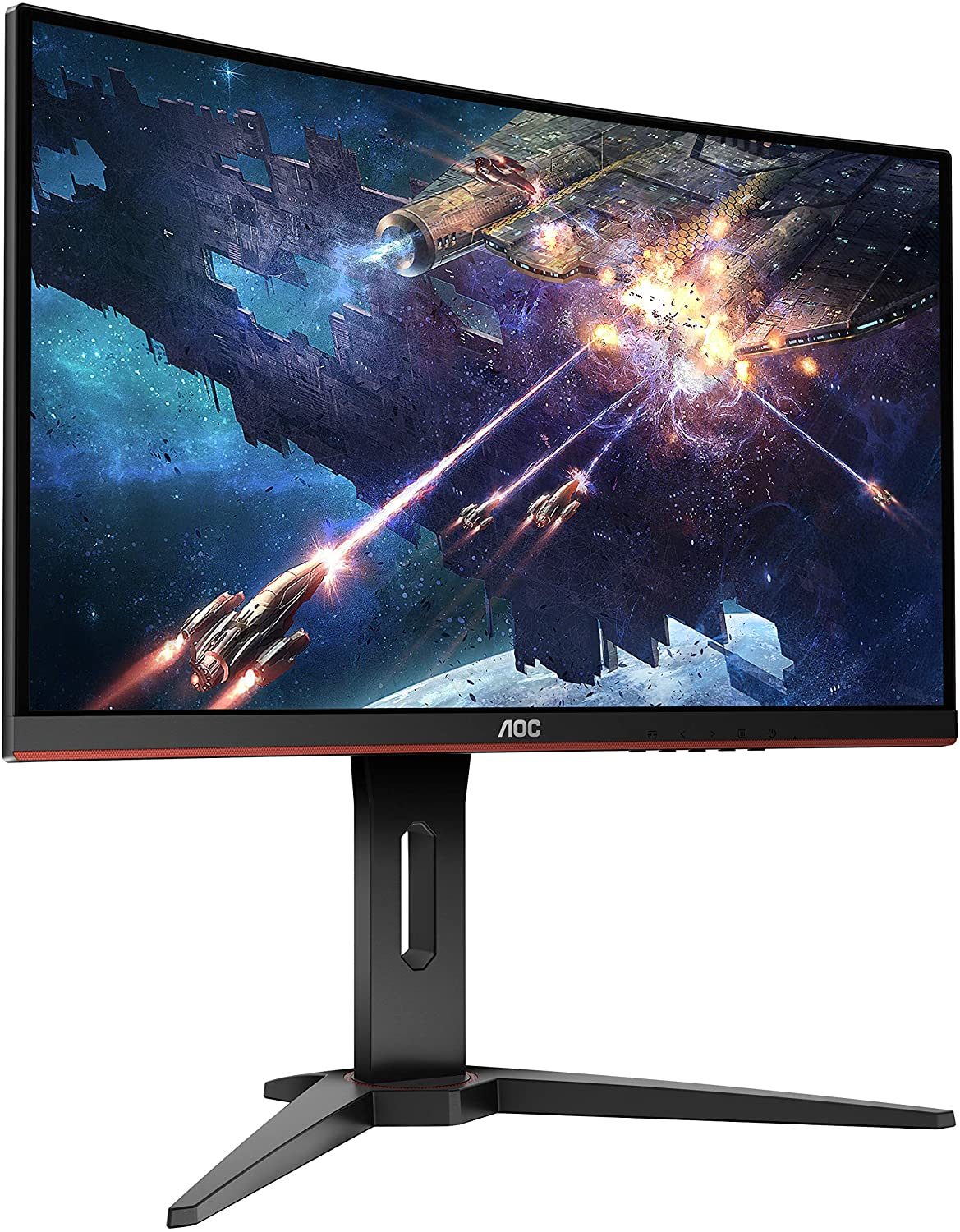 With a Full HD 23. 6″ curved VA panel, the C24G1 displays a detailed image with vivid colors. Its 1500R curvature and frameless design offer an immersive gaming experience. The rapid 144 Hz screen refresh rate and 1 ms (MPRT) response time enhance the in-game experience, while AMD FreeSync technology keeps the visuals smooth by eliminating screen tearing and stuttering
With a height-adjustable stand that provides ergonomic comfort, as well as VGA, HDMI and DisplayPort inputs, this monitor allows you to connect all your favourite devices.
A new gaming experience awaits. These curved gaming monitors are designed for the most dedicated gamers out there. It is the perfect monitor for real-time strategy and first-person shooters. You've never seen a curve like this! The AOC G2490VXQ has a 1800R curvature that wraps around your field of view to immerse you in the game. This monitor has a 23.6-inch display so you can enjoy stunning visuals without taking up your entire desk.
The AOC G2490VXQ delivers high-quality colors thanks to its VA panel with an LED backlight display. With a fast response time of only 1 ms and a 144 Hz refresh rate, this monitor is perfect for fast action games. Whether you're playing an intense multiplayer game or watching a movie in HD, this monitor will provide crystal-clear graphics with vivid colours and deep dark shades.
DrawBacks
The high end curved monitor comes with various drawbacks that includes poor viewing angles and slight black crush.
Pros
Aesthetically pleasing matte screen
Low input lag
144Hz AMD free sync
Valuable
Great contrast ratio
Cons
Poor viewing angles
No USB port
No built in speakers
165Hz 144Hz refresh rate pushing beyond the standard 144Hz, 165Hz gives gamers an edge in visibility as frames transition instantly, leaving behind no blurred images. With a 165Hz refresh rate every frame is rendered sharply and in smooth succession, so you can line up your shots accurately and appreciate high speed races in all their glory.
1ms playing Fast action games and watching action adventure movies always require fast and accurate Pixel response from an LED. With quick response times, ghosting and blurring are reduced so the user can enjoy the display with clarity and precision. The quick 1ms response time makes this monitor a real standout in gameplay.
AMD FreeSync with FreeSync, gamers now enjoy smooth video and seamless on the spot movement through their fast paced games. Through AMD FreeSync technology, the game's frame rate is determined by your graphics card, not the fixed refresh rate of the monitor, giving you a serious competitive edge. Enjoy exceptionally smooth gaming with dynamic refresh rates.
Displayport has rapidly become the most versatile display connection, Easily delivering video and audio on a single cable while increasing performance well beyond that of previous display standards.
DrawBacks
However the monitor comes with built-in speakers which is great, however, the quality of the speakers is questionable and could be better.
Pros
Great for gaming
Highly affordable
Great refresh rate
Exceptional image quality
Cons
Poor speakers
Tilt only stand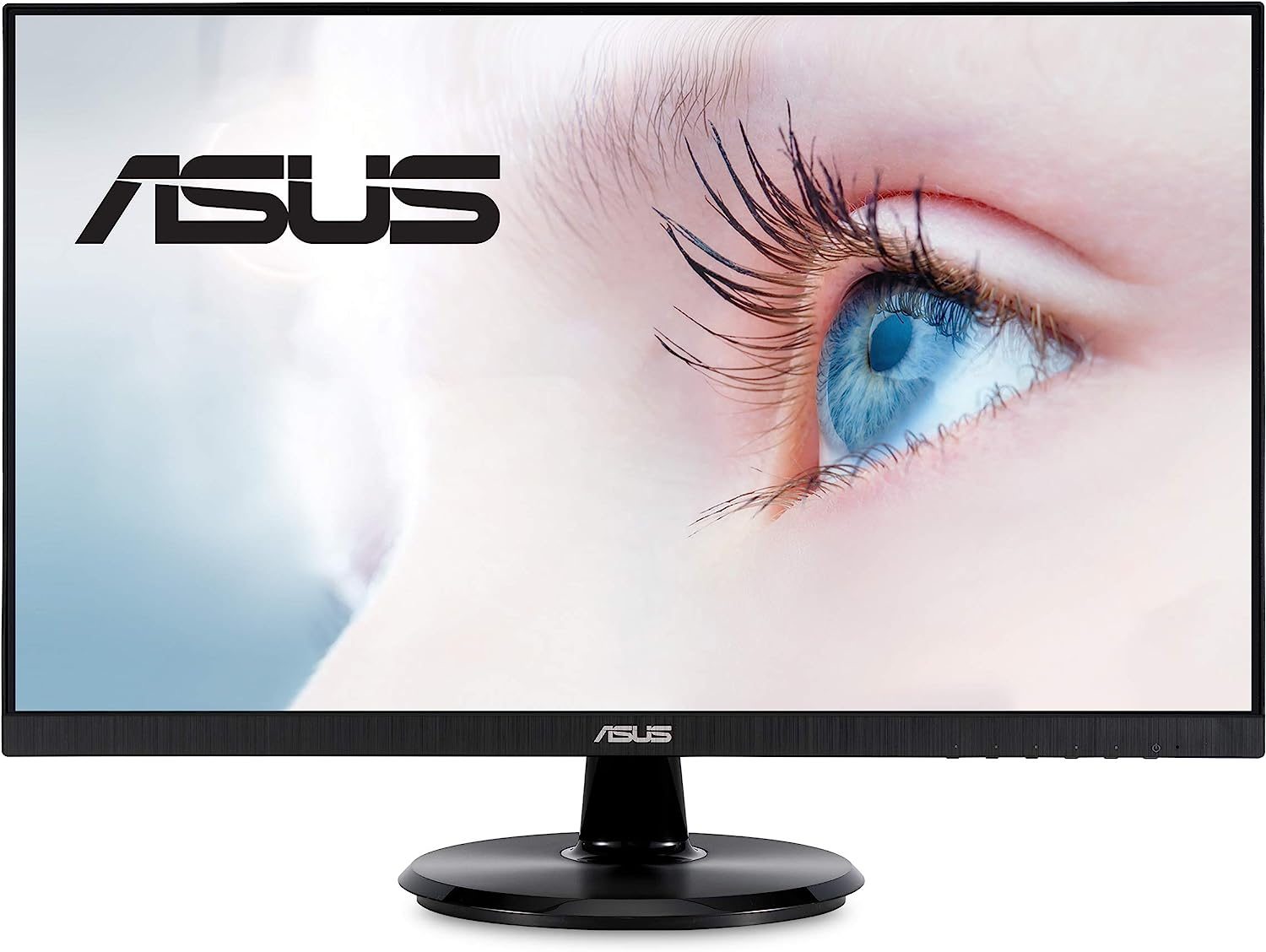 The ASUS VA Series is a 23.8-inch display that features the brand's Eye Care Technology. It has a refresh rate of 75Hz, Adaptive-Sync/FreeSync technology, and extensive connectivity options. The ultra-slim profile contributes to its sleek and elegant aesthetic design.
The ASUS VA24DQ has a flicker-free technology that helps reduce eyestrain and fatigue. It also has an Ultra-low Blue Light filter for exposure to harmful blue light. This ensures comfortable viewing over long periods of time.
A monitor with a 75Hz refresh rate provides smoother and more fluid visuals, which are ideal for fast-paced games and movies. With Adaptive-Sync/FreeSync technology, you'll be able to enjoy tear-free, stutter-free and jerk-free visuals when playing games or watching videos.
The ASUS VA24DQ's 23.8-inch display has a wide viewing angle from any direction, so images remain consistent no matter where you're sitting or standing. The ultra-slim profile of the VA24DQ contributes to its sleek.
DrawBacks
The budget monitor doesn't have many negatives except for its pretty ordinary tilt-only stand.
Pros
Highly affordable
Great image quality
Eye care technology
Free sync support
Its design is modern and minimalist, and it has a slim profile that fits into any setting. Plus, with a 75Hz refresh rate, this monitor provides smooth and fluid visuals ideal for fast-paced games and movies.
The VA24DQ's Full HD screen resolution of 1920 x 1080p delivers vivid visuals with incredible clarity.
The ASUS VA24DQ's 23.8-inch display has a wide viewing angle from any direction, so images remain consistent no matter where you're sitting or standing.
A monitor with a 75Hz refresh rate provides smoother and more fluid visuals, which are ideal for fast-paced games and movies. With Adaptive-Sync/FreeSync technology, you'll be able to enjoy tear-free, stutter-free and jerk-free visuals when playing games or watching videos.
The ultra-slim profile of the VA24DQ contributes to its sleek and minimalist aesthetic design. It also offers extensive connectivity, including HDMI and DisplayPort inputs, ensuring compatibility with a variety of multimedia devices.
DrawBacks
The tilt only stand is the only thing that could have been addressed well by LG.
Pros
Great picture quality
Superb aspect ratio
Good for gaming
Beautiful colours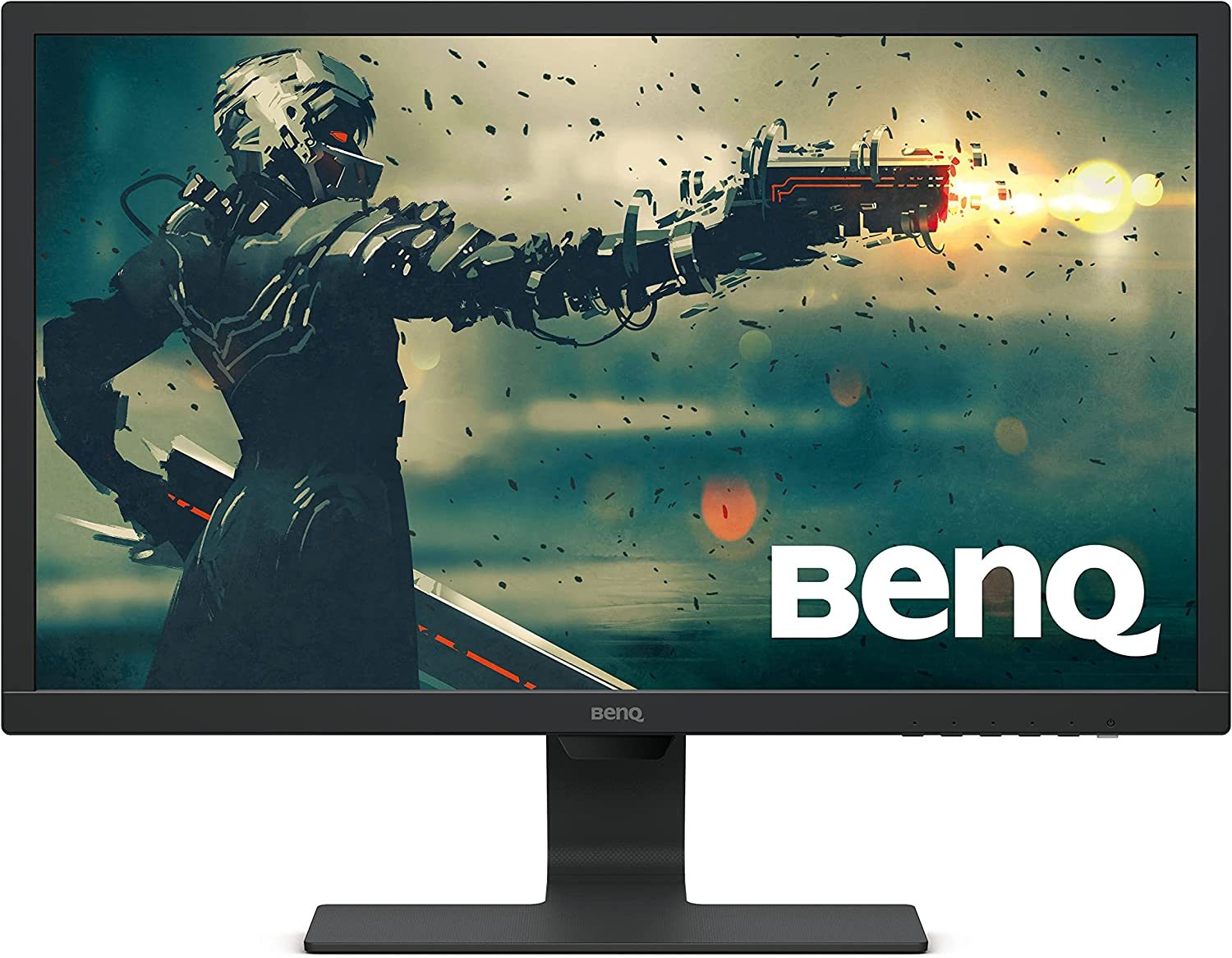 The BenQ 24 Inch Gaming Monitor is an awesome monitor for gaming. It has a really good resolution of 1920 x 1080, a response time of 1ms, and a refresh rate of 60Hz. It's also an LCD panel type monitor with an aspect ratio of 16:9, which is pretty standard for most monitors. The response time is great since it gives you the ability to be able to play games without any delay or lag from the monitor itself. It also has built in speakers and a mic jack so that you can have some audio input when using the monitor for gaming purposes or watching movies.
This BenQ 24 Inch Gaming Monitor Review will show you why this monitor is good for gaming and why it's worth it to buy one. It has all the features that most gamers want in their gaming monitors and they are also affordable at around $150-$200 depending on where you get them from.
The first thing that I noticed about this BenQ 24 Inch Gaming Monitor was the price tag. It's not too expensive but not cheap either so it won't break the bank either way if you decide to purchase one.
DrawBacks
The built in speakers of this BenQ monitor doesn't offer the sound quality one would want to have in a monitor.
Pros
Zero flicker eye care tech
Ultra thin bezel
Comfortable viewing experience
Multi panel configurations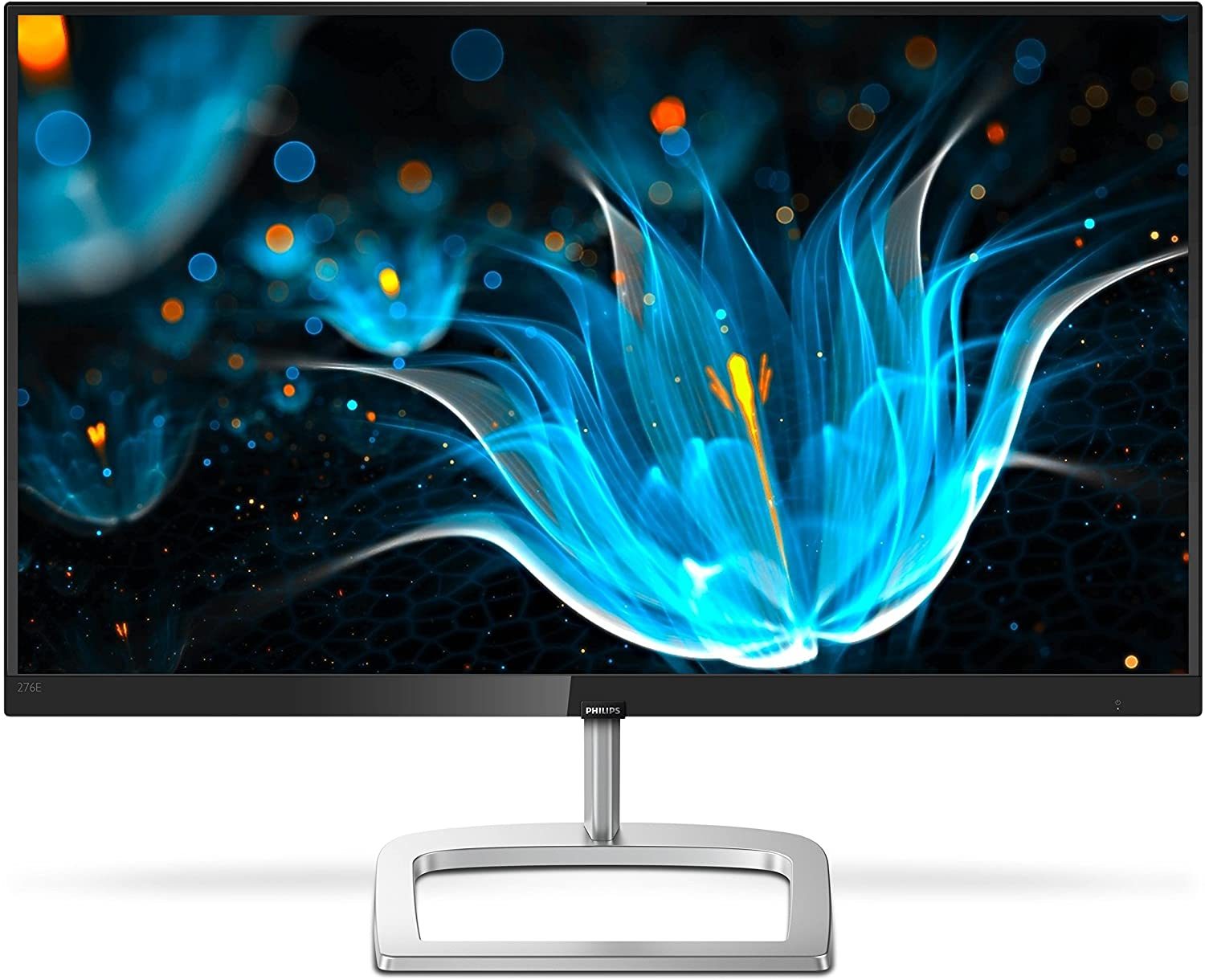 The Philips 276E9QDSB boasts a 27″ display with Quad HD 2560×1440 pixel resolution. Combined with an ultra-narrow border and unique ambient lighting, the display gives you an immersive and distortion-free viewing experience.
The IPS panel in this Philips monitor uses an advanced technology that gives you extra-wide viewing angles of 178/178 degrees, making it possible to view the display from almost any angle. Unlike standard TN panels, IPS displays give you remarkably crisp images with vivid colours, making them ideal not only for Photos, movies and web browsing but also for professional applications which demand colour accuracy and consistent brightness at all times.
Featuring AMD FreeSync technology to eliminate tearing, broken frames, and choppy gameplay for incredibly fluid gaming experiences.
With VESA DisplayHDR 400 you can experience more realistic images with higher contrast and brighter highlights to enjoy the latest AAA games, movies and shows in astonishing quality.
DrawBacks
The monitor although packs some pretty handy features, it doesn't have a USB port plus the monitor also doesn't have any speakers.
Pros
Affordable price
Lightweight
Decreased power consumption
Cons
No USB port
No built in speakers
| # | Preview | Product | Price |   |
| --- | --- | --- | --- | --- |
| 1 | | LG 27-inch 27MN60T-W Class FHD IPS Monitor (Renewed) | $129.99 | Buy on Amazon |
| 2 | | ASUS TUF Gaming 27″ 2K HDR Gaming Monitor (VG27AQ) – QHD (2560 x 1440), 165Hz (Supports 144Hz), 1ms,… | $329.99 | Buy on Amazon |
| 3 | | Acer K202HQL bi 19.5" HD+ (1600 x 900) TN Monitor | 60Hz Refresh Rate | 5ms Response Time | for… | $117.59 | Buy on Amazon |
| 4 | | LG 24MP60G-B 24″ Full HD (1920 x 1080) IPS Monitor with AMD FreeSync and 1ms MBR Response Time, and… | $166.99 | Buy on Amazon |
| 5 | | LG 22MK430H-B 21.5-Inch Full HD Monitor with AMD FreeSync, Black | $119.99 | Buy on Amazon |
| 6 | | Sceptre 24″ Professional Thin 75Hz 1080p LED Monitor 2x HDMI VGA Build-in Speakers, Machine Black… | $135.00 | Buy on Amazon |
| 7 | | Acer SB220Q bi 21.5 Inches Full HD (1920 x 1080) IPS Ultra-Thin Zero Frame Monitor (HDMI & VGA… | $129.99 | Buy on Amazon |
| 8 | | SAMSUNG 32-Inch QHD Computer Monitor, 75Hz, HDMI, USB-C, 1440p Monitor, HDR10, Vertical Monitor, AMD… | $388.94 | Buy on Amazon |