Best DSLR Gimbals
You have invested a lot in your DSLR gear and have been taking the best pictures. The next step is to buy a DSLR Video Gimbal Set which gives you a better and smoother filming experience for a diverse range of shooting environments.
Gimbals used to be expensive. In recent years, though, even DSLR users can get good results with a $200 gimbal. Now don't get me wrong — these won't match the results from larger, professional gimbals. But these will work for the casual DSLR user looking to improve their video quality.
Why Gimbals are important ?
Gimbals are mechanical stabilization devices for photography, videography, and even robotics. They keep cameras stable so that you can get smooth video footage without the need for a camera operator.
Gimbals come in two main varieties: single-axis gimbals and 3-axis gimbals. A single-axis gimbal stabilizes movement around a single axis. A 3-axis gimbal stabilizes movement along the x, y, and z-axis.
Where a tripod would be used to stabilize a camera and prevent any motion, gimbals provide stabilization when there is motion but still want the camera stabilized. This is where they shine. They are often used by filmmakers and videographers because they can create smooth video footage while walking, running, or even driving in a car.
Many filmmakers use them to film action scenes or moving shots that would otherwise be very difficult to achieve without the use of a camera gimbal or Steadicam rig.
Which camera gimbal is best?
If you want to take your photography and videography skills to the next level, you're going to need more than just a steady hand.
Camera gimbals are designed to balance your camera on three axes, so you can capture smooth, stable footage even if you're on the move. They're fairly simple tools that make up for your lack of skill and steady hands, but they're also surprisingly expensive, with some costing as much as the camera itself.
Some of them come with a range of features like remote control and smartphone app integration, while others are stripped down to the bare essentials and priced accordingly.
To help you narrow down your options, we've picked out some of the best camera gimbals on the market today, at a range of price points.
Can gimbals be used for photography?
Gimbals can be used for photography, but unless you really need it for shooting video, you most likely don't need a gimbal.
Gimbals are a useful tool when you are shooting smooth video, but they are not nearly as critical when it comes to photography. For those that want the best image quality possible out of their camera the decision to use a gimbal or not is clear – use a tripod!
Is gimbal really useful?
Gimbals are most useful when you're shooting on the move. It's not easy to keep your hands steady when you're walking, running, or involved in some activity. A gimbal eliminates the need to stabilize your camera with your hands.
Many professional photographers rely on gimbals to make their work look more fluid and professional.
Best Gimbals For Sony
Let's start our list with the best gimbals for sony cameras including gimbals for Sony Alpha a6300, a6400, a6500 & a7 Series, and so on.
This article section will cover the best gimbals for Sony cameras. We'll start with the top fours picks, and then move into some of the other good options that are available.
Bestseller No. 1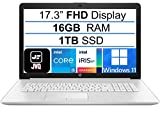 2022 HP Pavilion 17 Laptop, 17.3″ FHD IPS Display, 11th Gen Intel i5-1135G7(Up to 4.2GHz, Beat i7-10710U), 16GB RAM, 1TB PCIe SSD, Backlit Keyboard, HDMI, WiFi, Bluetooth, Webcam, Windows 11+JVQ MP
Keeping your camera steady is one of the most important aspects of shooting a good video. You can't always find a tripod or something to lean against, and using your hands to shoot a video just isn't going to cut it. A gimbal will keep your footage buttery smooth, even when you're moving around with the camera.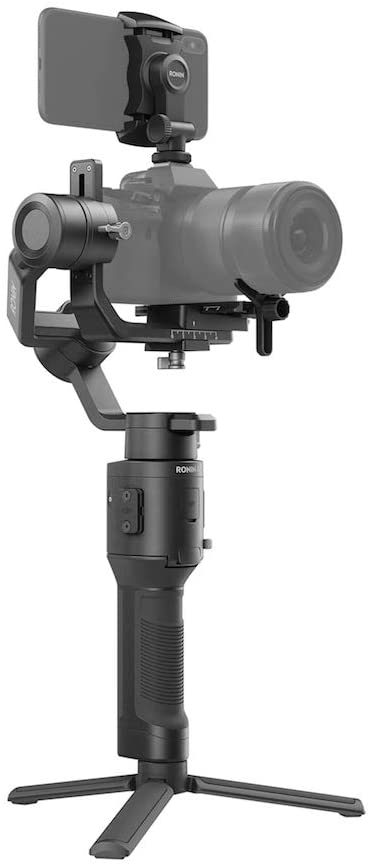 The DJI RSC 2 is a gimbal stabilizer built for cinematic content creation. With its 8.4 lb payload capacity, the RSC 2 is compatible with a wide range of cameras, including professional setups like the sony a7iii and Sony Alpha Series.
With the DJI RS 2 gimbal, you can stabilize your camera using advanced algorithms and powerful motors to create smooth cinematic shots. The gimbal also has an intuitive user interface so you can quickly change settings and make adjustments on the fly. You can even create custom profiles to suit your shooting style or switch between them as needed on set with one touch of a button.
The DJI RS2 gimbal also comes equipped with intelligent features like ActiveTrack 3.0 tracking technology which allows users to track subjects with ease while recording video or taking photos at their own pace without having to worry about getting lost in the process.
The RSC 2 also has a wide selection of shooting modes including active track, panorama, hyperlapse, motion lapse, and more. It also comes with a variety of automatic flight modes such as follow me, point of interest, waypoints, course lock, home lock, and more. These various modes mean that whether you're filming an action scene or a scenic landscape video you'll never run out of options for capturing beautiful
The DJI RSC 2 is built for professionals who want ultimate stability in their footage, whether they're capturing stills or recording video from afar. The lightweight design makes it easy to carry around all day long without tiring out your arms, yet sturdy enough.
If you're looking for a smart, compact, and easy-to-use gimbal system, then the Zhiyun Crane M2 is one of the best options out there. It's a follow-up to the original Crane-M, which was a popular 3-axis gimbal that supported mirrorless cameras. The new model supports smartphones (Android or iOS), GoPro, action cameras, and mirrorless cameras up to 1kg in weight.
The Crane M2 is designed to be stable and easy to use, but also versatile with different shooting modes and a wide range of supported devices. It's also compatible with Zhiyun's upcoming wireless follow focus system (which will be sold separately) that should make it possible to take your time-lapse videos, panoramas, and hyper lapses to the next level.
Zhiyun has been in the gimbal game for quite a while now, but it's only recently that the company has started making gimbals with more than just three axes of stabilization. That's why the Crane M2 is so exciting: it's their first gimbal to feature four axes of stabilization, which means it can provide smooth footage no matter how you move. The fourth axis is roll stabilization, which means if you rotate your camera on its side, the Crane M2 will correct your movement and keep the horizon straight.
Pros
Very easy to set up and balance.
Easy to use and has many features, like one button zoom in/out, etc.
No more jello effect and shaky footage!
Well built looks great, and feels solid in hand.
Can hold a very heavy camera with a long lens
Can be used as a tripod with the included tripod.
Runs for 12 hours on one charge!
If you're here because you want to take your mobile phone videography to the next level with a gimbal stabilizer, and you're looking for an alternative to tracking shots on a budget, I have good news for you. The MOZA Aircross 2 3-Axis Gimbal Stabilizer is one of the best gimbals for mobile phones and it costs much less than similar devices.
The MOZA Aircross 2 comes with a built-in battery that can be used to charge your phone while filming so that you don't run out of juice halfway through your shot. The 3-axis stabilizer comes with a few other features that make it stand out from other gimbals in its price range.
In this review, I'll go over the pros and cons of using the MOZA Aircross 2 and share my experience filming with it.
Is the MOZA Aircross 2 right for you? If you're into mobile photography or videography and don't have the budget for a DJI Osmo Mobile 3, this might be the perfect choice for you. It does exactly what it does well enough to justify its price tag.
The AirCross 2 is very easy to set up and well built. It gives me full control of my A7III while I'm filming cinematic shots on my travels. It can be used in 3 modes: (a) Follow mode (b) All-lock mode and (c) POV mode. In follow mode, if you are walking, you can adjust the dampening setting so that your footage is smooth and there's no "bouncing" effect when you walk fast. I tried this in all 3 modes and found that medium dampening works best for me when I am walking fast. For extreme movements such as running or jumping, high dampening setting works best.
Pros
Great battery life
Very easy to set up and use
Smooth, professional footage
Cons
High price tag
Doesn't come with a smartphone mount
The FeiyuTech AK2000 is a 3-axis gimbal stabilizer with a built-in focus motor and a max payload of 6.6 lb. It's suitable for use with mirrorless cameras, DSLRs, and camcorders, and can be used with a wide range of lenses up to an 8″ prime or 5″ zoom.
The included AK2000S quick release plate locks into the dual ARRI rosettes on the side of the gimbal for fast setup and configuration changes. The camera plate has both 1/4″-20 and 3/8″-16 threaded holes for mounting the camera on top, plus a thumbwheel that allows you to adjust the balance without needing to move the whole camera.
The gimbal has three modes: Follow Mode, Inverted Mode, and Locked Mode. Follow Mode is where the gimbal will try to maintain horizon level at all times.
Inverted Mode flips upside down so you can get shots that you could not otherwise capture. Locked Mode disables all axes so you can manually move your camera without fighting against the motors.
The AK2000 uses brushless motors to provide smooth panning and tilting movements. It has two operational modes: follow-mode and lock mode. In follow-mode, all three axes are stabilized; in lock mode, both pan and tilt axes are locked. The gimbal also has an OLED display on top that indicates battery life, operational modes, and more.
Pros
3 Axis Motorized Gimbal Stabilizer
Supports Cameras Weighing Up To 8.82 lb
360° Pan, 320° Tilt, & Roll Rotation
3 Working Modes & Joystick Control
1/4″-20 Threaded Holes for Accessories
OLED Screen with Lock Mode Functionality
Includes Camera Charging Cable & Case
Cons
Bottom mounting plate can get in the way of some cameras' lenses
Best Gimbals For Canon
The best gimbals for Canon cameras will be easy to carry and balance, and have the ability to work with your camera and lens of choice. When choosing a gimbal, you need to make sure it's compatible with your camera.
A gimbal is one of the most important tools for any filmmaker today. The ability to capture stable footage without worrying about the shake is an essential part of what makes a shot look professional. Gimbals are also a lot of fun to shoot with, so they are often used by hobbyists as well as professionals.
Some of the best gimbals for Canon cameras include: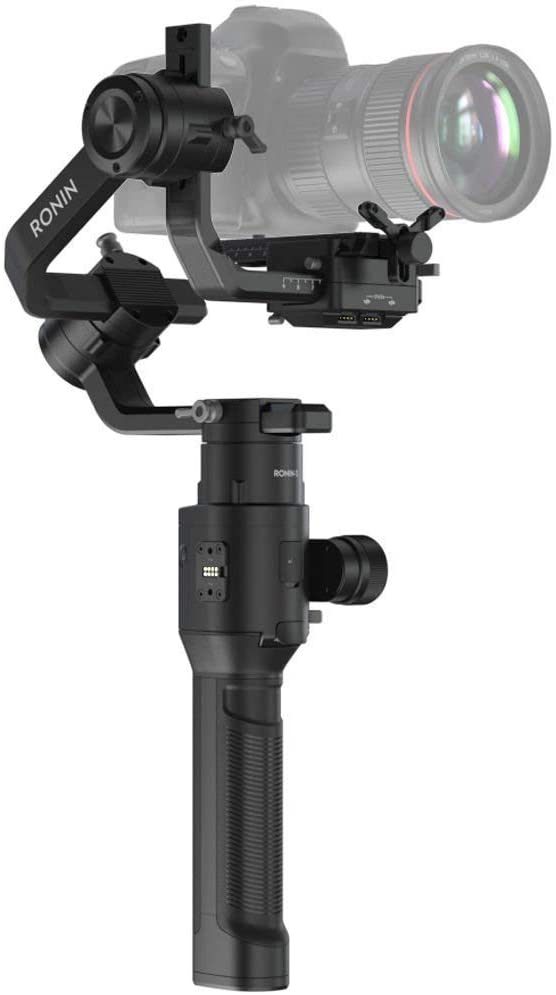 The DJI Ronin-S Gimbal Stabilizer brings 3-axis stabilization to a handheld form factor for cameras weighing up to 8 pounds. Its lightweight, ergonomic design makes it easy to carry, and its modular design makes it easy to quickly set up.
The DJI Ronin-S is more than just a miniaturized version of the larger Ronin gimbal stabilizers; it represents a scalable ecosystem for integrating DSLR and mirrorless cameras into professional-grade workflows.
The single-handed form factor of the Ronin-S lends itself to lighter cameras, but its modular design allows you to build it up to support heavier rigs weighing up to 8 pounds.
It works with an optional extension grip that allows for two-handed operation (and more pan/tilt control) as well as an optional external focus motor for pulling focus on lenses without gear rings.
The primary benefit of the Ronin-S is its stabilization quality. It offers the same smooth footage you would get from a gimbal-mounted on a car or drone but in a package small enough to fit in your backpack. The Ronin-S works with most DSLRs and mirrorless cameras, including Canon 5D Mark IV, Canon 80D & Canon 90D.
It uses DJI's SmoothTrack technology to offer three user profiles for different types of camera control: pan follow, full following, and locking on all three axes. This lets you maintain control of your shot even when moving quickly over rough terrain.
The Ronin-S includes several trigger buttons and dials that let you control focus and iris settings straight from the gimbal itself. There is also support for DJI's Master Wheels (available separately), which offer precision focus control with zero latency.
Pros
Easy to set up and balance.
Smooth operation.
Very easy to control with the app.
Battery life is great.
Easy to use follow focus.
The Crane 3 LAB is a 3-axis gimbal stabilizer that is compatible with mirrorless/DSLR cameras and camcorders weighing up to 7 lb.
Using three powerful motors, the Crane 3 LAB utilizes advanced algorithms to achieve real-time data feedback and automatic torque control, producing stable footage even during quick or sudden movements. The gimbal's handle features an OLED screen for quick access to menu items and settings, as well as a record button, joystick, USB port, and two customizable function buttons.
Designed for comfort and convenience, the Crane 3 LAB features an ergonomic handle with a rubberized grip for extended shooting periods.
An included wireless remote controller offers wireless gimbal control and allows you to set up multiple Crane 3 LABs in close proximity without interference between the devices.
The gimbal has a maximum payload of 7 lb but can support lighter loads down to 1 lb; this includes most mirrorless cameras with kit lenses and DSLRs with smaller zoom lenses such as an f/2.8 24-70mm lens. A quick-release plate on the base of the camera mount allows you to easily attach and remove your camera from the gimbal without having to rebalance it.
Pros
It's very compact, light, and easy to carry around.
Very smooth gimbal control with a ton of options.
Compatible with nearly all mirrorless and DSLR cameras on the market
The Crane v2 is a 3-axis gimbal stabilizer with 360° rotation along all three axes. It uses an advanced 32-bit MCU chip with an algorithm that ensures high precision and excellent smoothness in motion. The Crane v2 has a payload capacity of 2.65 lb, which means it can hold most mirrorless cameras and DSLRs (sold separately). It also comes with a mounting plate that allows you to quickly install and remove your camera, and a separate control panel for easy camera control.
The Crane v2 features a new follow mode that can automatically track objects as they move within the frame. It also has three different operation modes: pan following mode, locking mode, and full-following mode. An integrated knob allows you to make fine-tuning adjustments to the gimbal's pan axis.
Wireless remote control is included with the Crane v2, so you can operate it from up to 328′ away. The remote can also be used to operate the gimbal's roll axis and zoom the camera in and out if your camera supports this function.
It supports a wide variety of cameras from compact mirrorless models to entry-level DSLRs. A maximum payload capacity of 4.4 lb enables the use of most smaller mirrorless cameras with kit lenses or small prime lenses attached. The Crane V2 also offers 360° rotation along all three axes: pan, tilt, and roll.
Pros
Solid build quality
Excellent performance
Can handle a variety of payloads
Affordable price point
Cons
Not easy to balance at first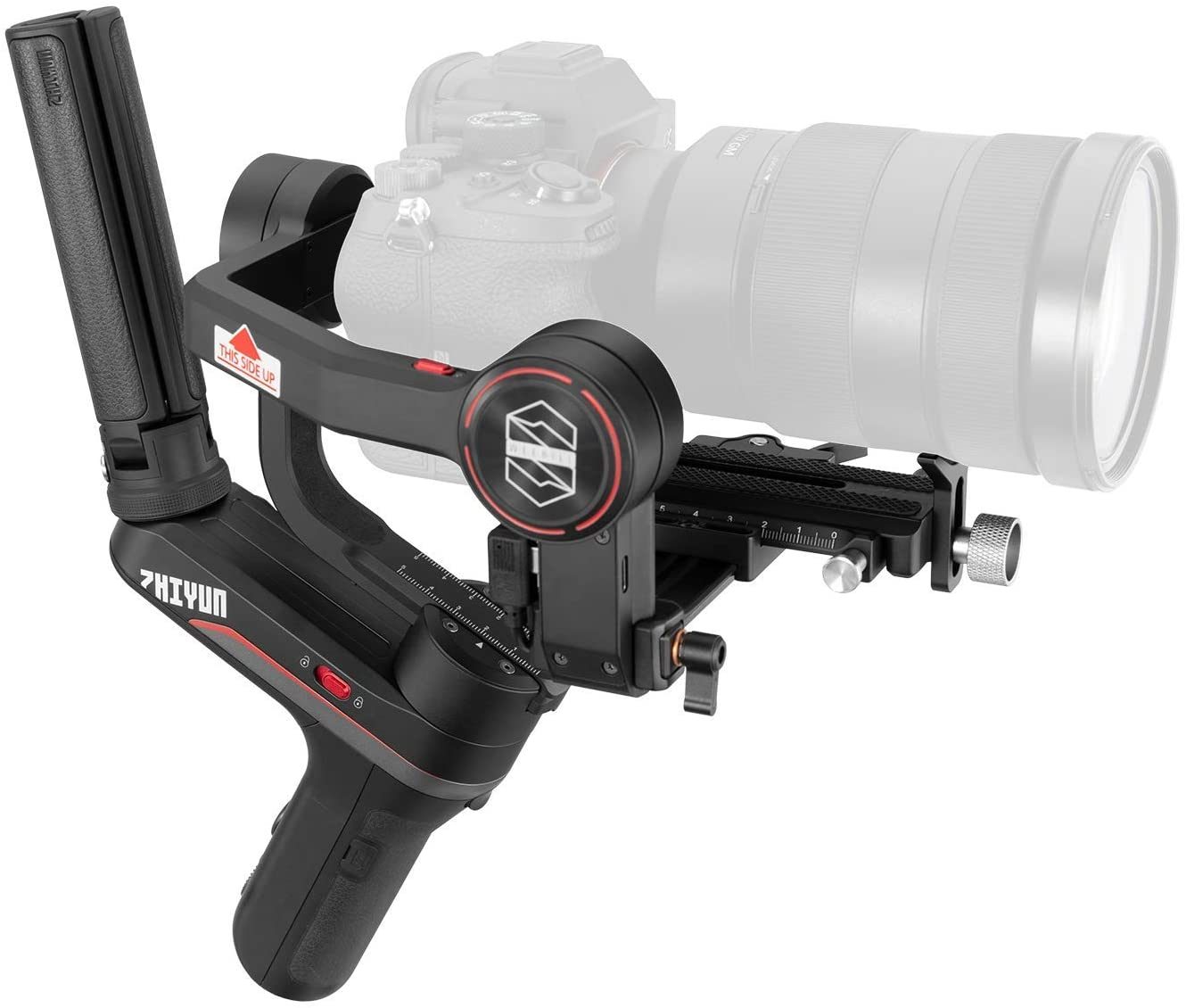 The Zhiyun Weebill S is a lightweight gimbal that can be used with a variety of mirrorless cameras and small DSLRs. It features 3-axis stabilization, an OLED display, and a unique design that allows the camera to sit at the bottom of the unit, providing better balance when mounted on a tripod. The Weebill S also includes several new features that make it easier to use than its predecessor, the Crane 3 LAB.
The gimbal has two direction wheels on the handle that you can use to change your shot as you're recording. It also features a quick-release mount for attaching your camera or swapping out lenses, as well as USB-C and multi-device wireless charging capabilities.
The gimbal has three different modes: Follow Mode, POV Mode, and Full-Range POV Mode. In Follow mode, you can pan and tilt your camera without moving your frame of reference. In POV mode, you can pan the gimbal 360° around your point of view for smooth tracking shots. In Full-Range POV mode, you can tilt the gimbal all the way back for low-angle shots.
Pros
Sturdy, high quality construction
Battery lasts a long time
It's lighter than the Crane 2
Easy to set up and use
Switching between modes is easy and quick
Compact when folded up
Best Gimbal For Nikon Cameras
Nikon cameras are among the most popular in the world, and their users can take advantage of this accessibility by using them with gimbals. Using a gimbal stabilizer with your Nikon camera can help you get professional-looking footage without hiring a pro. This is particularly true if you're shooting video, but it also comes in handy for still photography.
Some Nikon cameras are supported by gimbals without any adapters, while some require an adaptor. Users of other camera brands need to purchase an adapter as well as a gimbal stabilizer, so Nikon users have it easy! The main thing to keep in mind when shopping for a gimbal stabilizer is weight capacity.
You need to make sure that your camera and lens combination won't be too heavy for the stabilizer. If it is, you could risk damaging the equipment or even injuring yourself and others.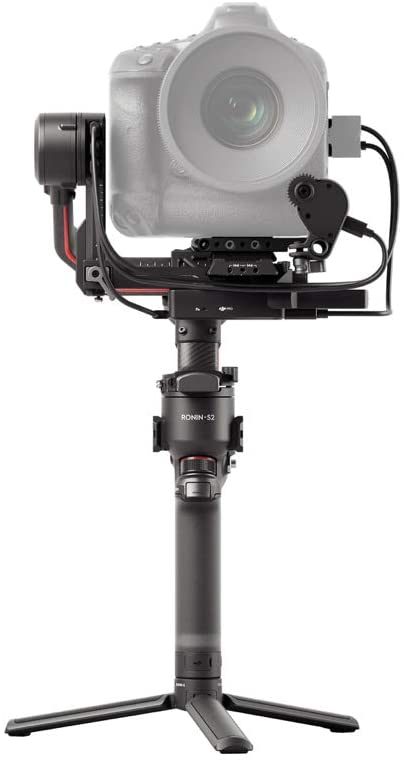 The DJI RS 2 is a 3-axis gimbal stabilizer with up to 15 hours of battery life, a payload capacity of 10LB and an optional handle, the RavenEye Image Transmission system, and a focus motor for compatible lenses.
The DJI Ronin-S's innovative framework provides superior stabilization for every shoot. The single-handed form factor of the Ronin-S lends itself to a variety of applications and can be easily stored in a backpack, making it perfect for travel. With the new DJI focus wheel at the side, you can pull focus while operating the gimbal with just one hand.
The 3-axis stabilization system smooths out movements and locks into place even when shooting on rugged terrain. Using a Bluetooth connection, you can control the gimbal via an iOS/Android app, allowing for remote zoom and focus control using the accessory ports. The Ronin-S supports a payload of 8 lb, providing camera support for most DSLRs and mirrorless cameras.
Adjustments to controls are made quickly using an intuitive interface on an integrated touchscreen. A custom button layout allows you to select settings specific to your needs and adjust them at any time without connecting to additional hardware or apps.
Optical sensors provide smooth and accurate focus control by simply rotating the DJI Focus wheel on the side of the Ronin-S.
Pros
Lightweight and easy to carry around
Great battery life
Easy to set up
Smooth footage with minimal vibrations
Powerful motors for big lenses
Cons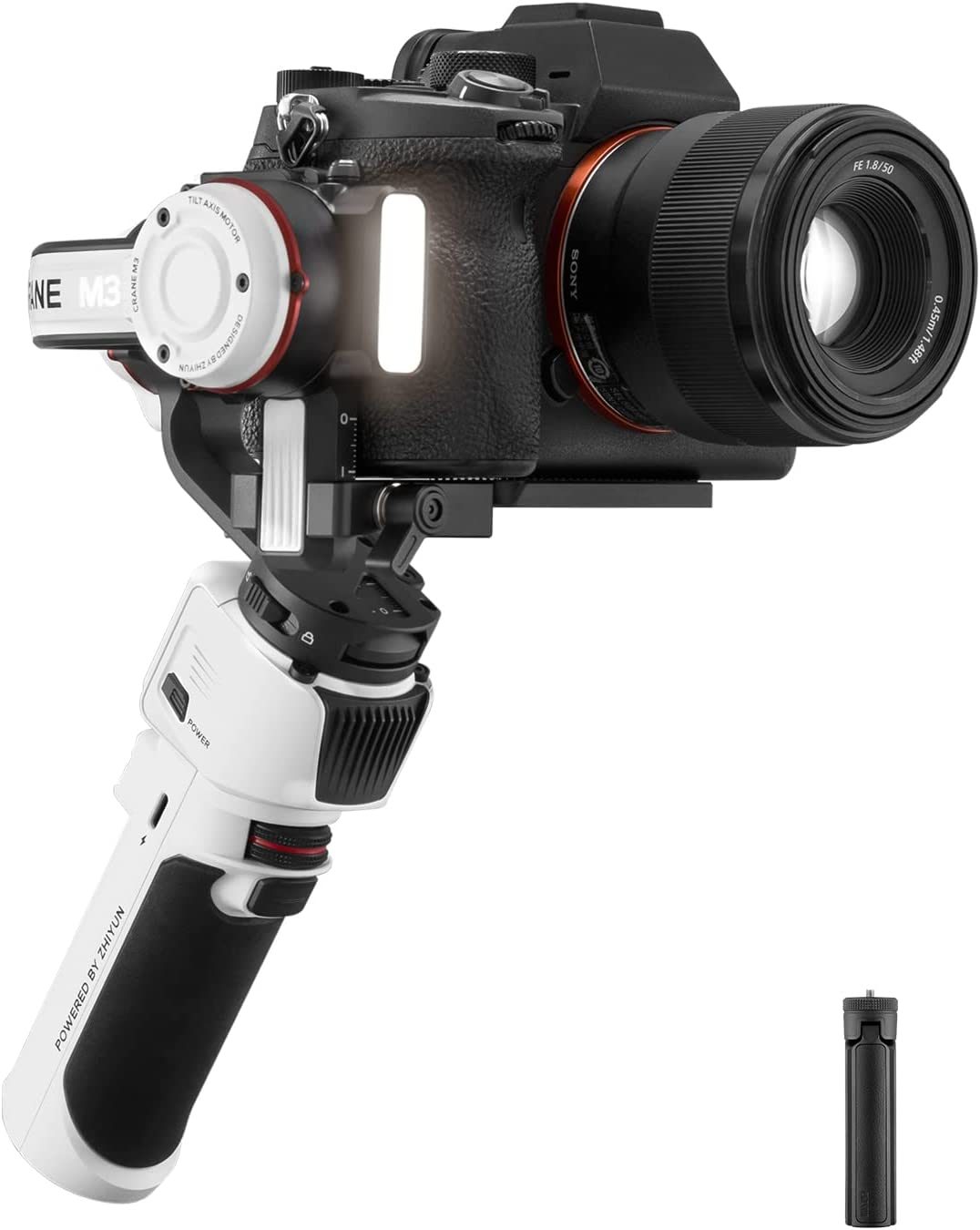 The Crane M3 is a 3-axis handheld gimbal stabilizer with a maximum payload of 6.6 lb that is designed for mirrorless and DSLR cameras. This advanced gimbal features a quick-release camera mounting system, a Manfrotto 501PL-compatible plate that supports both 1/4″-20 and 3/8″-16 screws, a locking mechanism to prevent the camera from falling out when the roll motor is turned off, and an OLED display panel on the side that shows you important information about the device.
The gimbal's battery lasts for up to 13 hours, and it can be charged via the USB port on the side of the unit or by using an external power bank (not included). A mobile app is available for iOS and Android devices, which lets you adjust various settings on the gimbal.
One such setting is the 360° Panorama mode; this function rotates the Crane M3 along its yaw axis in order to capture 360° panoramas. For more control over your camera, you can connect it to your smartphone via Bluetooth and use your phone as wireless remote control.
Pros
Upgrade version of M2
Long Battery Life of 13 Hours
Easy to Carry
Zhiyun CRANE 2S Combo, which includes the Crane 2S Gimbal, the Servo Follow Focus, and the TransMount Image Transmission Module, is a gimbal kit specially designed for professional filmmakers and videographers.
The Crane 2S Combo, which combines the renowned Crane 2S Gimbal with all kinds of new innovative accessories, is born to meet more requirements of professional filmmakers and videographers. It's a clever combination of advanced technology and master craftsmanship that brings you unprecedented experience in your filmmaking journey.
The TransMount Image Transmission Module lets you use your smartphone as a monitor, allowing you to watch a live HD video feed from your camera or gimbal's viewfinder. The image transmission module supports Wi-Fi and Bluetooth connectivity so you can control your gimbal from your mobile device. Meanwhile, the module also offers a USB Type-A port for connecting external monitors or devices to your gimbal for monitoring or charging purposes.
The Servo Follow Focus has an output gear that mounts onto any lens with industry-standard 0.8 pitch gears. It is able to connect to any lens's gear ring quickly without any tools; besides, its gear ring is compatible.
Pros
Has a 10kg/22 lb payload
Uses 6th generation Instune Algorithm for better stabilization
Has a quick release plate for ease of use
Comes with two 18650 batteries (using two batteries at once increases runtime)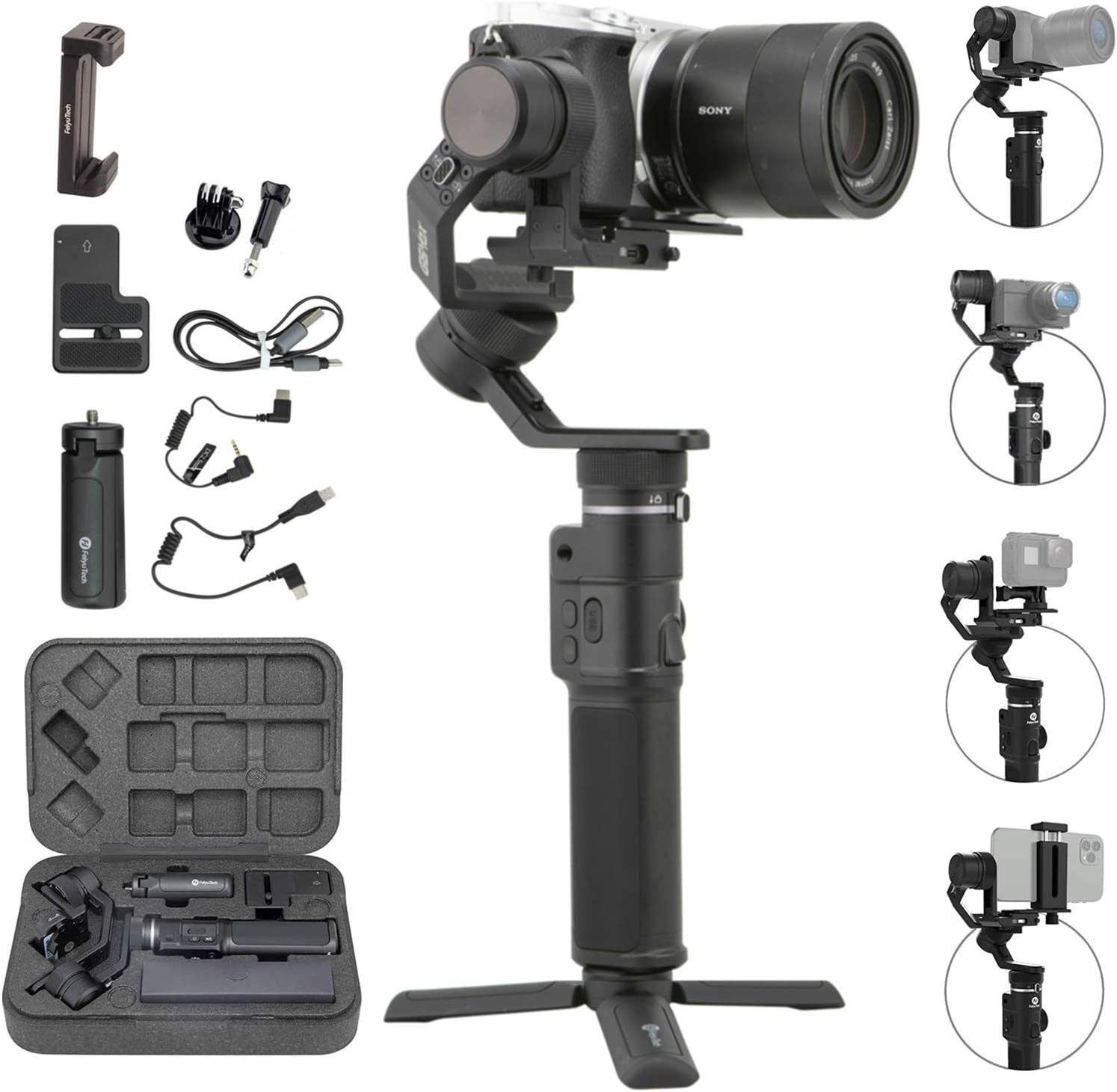 If you're looking for a gimbal that can handle your iPhone, GoPro, or mirrorless camera without breaking the bank, then you've probably come across FeiyuTech products. They're one of the more popular brands on the market, and best known for their affordable price tags.
The G6 Max is a new product of FeiyuTech, which has been committed to creating an integrated handheld gimbal. Through a variety of tests and improvements, the G6 Max is more suitable for your shooting.
The G6 Max weighs only 400g and it can be held in one hand. The G6 Max can be easily stabilized and balanced while walking, running, or riding. It is light and convenient.
The G6 Max can work with multiple cameras at the same time, such as Canon M50, Sony A7III, and Nikon Z50. It supports wireless charging of mobile phones and cameras with a wireless charging function. At the same time, the G6 Max supports USB-C interface charging, which can also be charged by an external power bank during outdoor shooting.
The G6 Max uses the Feiyu ON app to control various parameters on the gimbal, including follow speed adjustment and focus speed adjustment. The APP can also realize intelligent motion tracking through mobile phones' AI functions. In addition to supporting gimbal operation modes such as pan, axis follows mode, the gimbal also supports various special effects control modes such as sports mode, panning mode, and original point mode.
Pros
Can be used with a GoPro or a small mirrorless camera
Oversized joystick for easy panning and tilting control
Handy trigger button for switching between different modes
Cons
Not very good at rotating 360 degrees.
Things to Consider Before Buying a Camera Gimbal
There are a couple of things you should consider before buying a camera gimbal. The first one is the price. If you pick an expensive gimbal and you are just starting out, it might not be the best idea. Most gimbals have a learning curve so start with something that is cheaper and more basic.
The next thing to look at is the build quality of the gimbal. It needs to be able to hold your camera while being smooth and easy to operate. This can make or break your video experience, so make sure you do your research before buying.
How many axes?
Gimbals can come in different forms, but the most common one has three axes: yaw, pitch, and roll. For example, if you're filming yourself talking, then the yaw would control from left to right movement and pitch would be up and down movement of the camera. Roll adjusts when the camera turns sideways on its side either clockwise or counterclockwise.
Price:
The price of a gimbal can vary greatly depending on many factors. The cheapest ones are usually handheld smartphone gimbals and are only a couple of hundred dollars. Most 3-axis DSLR cameras will range from $300 to $700, with more expensive high-end models like the Ronin being around $1,500. If you're looking for an affordable way to get started in the market, then handheld smartphone gimbals are a great option.
Build quality:
The build quality of a gimbal can make or break your experience with it. While most of them tend to be made out of plastic, there are some brands that use metal instead; this makes them heavier but more durable. This depends on if you want something lightweight or heavy duty! If you need something lightweight with great build quality and don't mind paying extra money for it though.
Payload
How much does your camera weigh? What about any accessories such as lenses or audio gear? You'll need to make sure that your chosen gimbal can handle this weight without compromising its performance. Most manufacturers will specify maximum payload ranges for their products, so make sure you check that these meet your needs.
Controls
Some gimbals come equipped with joystick controls for panning left/right and tilting up/down as well as buttons for locking the current position or switching between modes (panning only vs. full-range motion). Others offer no control over the movement at all and simply keep the camera balanced regardless of how it's moved by the operator. Others still offer controls on one axis only (often left/right panning).